February 2014 Stanford Women's Basketball Archives
February 27th- Stanford Whips Washington

This was supposed to be the grudge match. The Stanford Women's Basketball Team needed to avenge its only Pac-12 loss vs. Washington, and since Washington was coming to Stanford's house, no way were they going to let a loss happen again. 

One thing you will get after beating a Tara VanDerveer team: the opposite game. Last game, against Washington's zone, Stanford was nine for 41 on threes or made just 21% of them. This game Washington stayed in the zone and Stanford shot 37% from behind the line, going nine for 24. Last game most of the threes came in the final two minutes when Stanford was furiously attempting a comeback that would end short. This game most of the threes came during runs of 11-0 during the first half and a on a 16-4 run to open the second and Stanford built a 30 point lead and never looked back. 

Last game Stanford played uninspired defense that let probable Pac-12 Freshmen of the Year Kelsey Plum get 23 points. This game, well Plum got 21 but Stanford held her in check the first half and frustrated her all night. Stanford also held Washington scoreless for over six minutes in the first.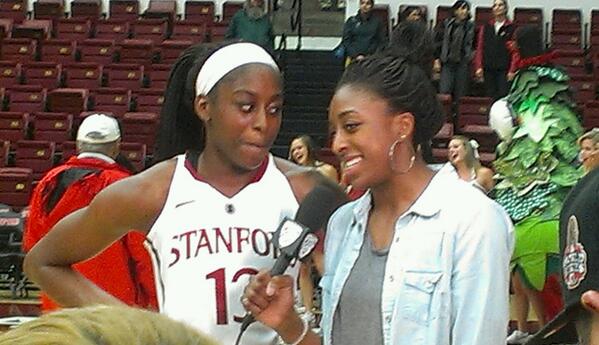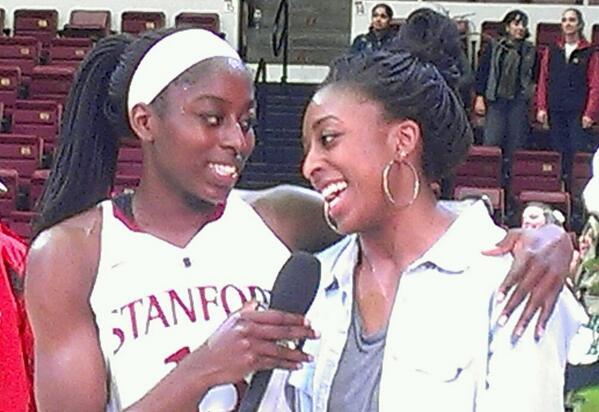 Chiney Ogwumike gets interviewed by sister Nneka, then turns the tables (photos courtesy of C and R's smart phones!)

But one thing is a constant in a Stanford Women's Basketball game this year and that is the play of senior Chiney Ogwumike, who knows her time is finite. Plus older sis ands WNBA star Nneka Ogwumike was in the house and we know how inspired Chiney can get when Nneka is on or near the court to her. 

Last game Chiney had trouble scoring against Washington's zone, and true to form, they doubled her most of the night. Chiney still scored 32 points and grabbed 11 rebounds for her 21st double-double of the season. She scored 21 points in the first half, leading Stanford to a 45-32 lead at half time. Chiney was four points shy of tying her career high. She also increased her career scoring total to 2,543, leaving her 87 shy of breaking former Stanford star Candice Wiggins' Pac-12 record. 

Bonnie Samuelson added 14 points for Stanford, making four of seven from behind the three-point line. Freshie Lili Thompson had 11 while shooting three of six from behind the line. Fellow guard Amber Orrange added 10 points and four assists. Mikaela Ruef, who grabbed 22 rebounds last game, had a game-high 14 rebounds in this one. 

Last game the score was 87-82, with Stanford on the losing end. This game, the score was 83-60. There was no way Stanford was going to let Washington score over 80 points again. 

Nneka Ogwumike, who will be commentating for the Pac-12 Networks at the Pac-12 Tournament in Seattle, interviewed her sis after the game.

Last regular season game at Maples Saturday, and senior night for Chiney Ogwumike Sara James, Mikalea Ruef (who went through it last year) and Toni Kokenis, a former All-Pac-12 guard whose career ended as a result of concussions last season. Hope to see you there. 
---
February 23rd- Stanford Starts Slow, Beats UCLA

The Stanford Women's Basketball Team has a new norm in Pac-12 play. Start slow, let the other team build a lead, take the lead mostly on the back of Chiney Ogwumike, and pull out a win. 

The latest victim was UCLA, which Stanford beat65-56 at Pauley Pavilion. Can you say defensive struggle? Or sloppy play?  UCLA had 18 turnovers and Stanford had 16. 

This game Stanford head coach Tara VanDerveer shook things up a little regarding the starting line up. Bonnie Samuelson and Briana Roberson made their fist collegiate start. Erica McCall also made her second start of the season. Briana started out well with a three and a drive to the basket. She committed a charge and got subbed out and never really was able to do much afterward. 

And when Stanford fell slightly behind, some of the regulars such as Mikeala Ruef and Taylor Greenfield came in. It was also good to see regular starting guard Lili Thompson come into the game after missing last game with an ankle injury. 

Chiney Ogwumike, right, drives past UCLA (Ringo H.W. Chiu - AP Photo)

UCLA made all four of their three point attempts and Stanford fell behind early. Stanford's inside player Chiney Ogwumike was held without a basket for the first ten minutes. But her first basket was a beauty; a steal and a break away lay up. Finally, with four and a half minutes left, Bombing Bonnie tied the game with a three, making the score 23 all. 

Although Chieny was held to just nine points in the first half, she did score the last six points in the half and Stanford found itself with a four-point lead, 29-25, which they would not relinquish. 

The second half opened with the usual starters. That must have felt good because with 14 minutes left in the half and UCLA within two (40-38), Stanford went on a 16-4 run over the next five minutes to build their lead to 14. This was largely due to Chiney Ogwumike and her absolute desire to get to the basket when she catches the ball in the low post.

Chiney ended up with 26 points and 15 rebounds, posted her 20th double-double and 24th 20-point game of the season. She also set a season high with five blocks, just one shy of her career best, and matched her season best with four steals. 

BTW, Chiney's 26 points increased her career scoring total to 2,511, passing older sister Nneka (2,491) for second place on Stanford's all-time scoring list. Nneka is a good big sis, she probably won't mind. Chiney is also now 119 points away from breaking Candice Wiggins' Pac-12 record of 2,629 career points (and she might mind! LOL). (Does the Pac-12 tourney count?) 

Mikaela Ruef scored seven and grabbed 11 boards marking her 14th game this year with at least 10 rebounds. Mikaela's 11 rebounds along with Chiney's 15 made for the 10th game this season in which each of them pulled down double-digits in boards. 

Amber Orrange scored 13 points and had two steals and some speedy lay ups. Bonnie added seven and made one three in her first start. 

With this win, Stanford is the outright Pac-12 regular-season champions, and have a first round bye in the Pac-12 tournament. 

Just two more games at home. And Thursdays is a grudge match against Washington! 
---
February 21st- Stanford Comes Back From 19, Beats USC

So, this was little too close for comfort. I know, wisdom says the Stanford Women's Basketball Team will learn more from falling behind by 19 and coming back and beating USC by five (64-59) then a huge blow out, but what about C and R's weak hearts.

The game started with some bad news. Starting Freshie guard Lili Thompson was in a walking boot and the Pac-12 Networks announced she had an ankle sprain. Stanford Head Coach Tara Vanderveer was probably thinking that last game they beat USC by nearly 30, let's try out some other people in Lili'role. The bad news was Stanford didn't have the 30 point lead yet.

USC came out on fire and jacked up some crazy threes that had no business going in. Stanford looked disjointed with a revolving door of players on the floor. They couldn't get in a rhythm and many tried to force it to inside player Chiney Ogwumike. Bad passes or great USC defense, either way, turnovers galore. Stanford had more turnovers halfway through the first half then they did the entire game the last time these two teams met. Soon it was a 19-point deficit with 6 minutes left in the first.

Now that's some D! Amber Orrange and Chiney Ogwumike. (Alex Gallarado - AP Photo )

While USC was making all their threes in the first, Stanford was busy missing theirs  (3-11 for the game). Stanford was shooting poorly everywhere, except free throws, and free throws kept them in the game the first half. When the deficit got to 19 with six minutes left to play, Stanford finally woke up and clawed their way back. They stopped USC from hitting those threes (heck, USC didn't score in the final four minutes of the first) and Bombing Bonnie Samuleson hit a three with seconds left to send Stanford into the locker room only down by seven. 

And you can't keep an Ogwumike down. Chiney came out on fire. She scored 12 of Stanford's first 17 points in the second half. She stole an inbound pass and drove for a basket to tie it at 43-43. She then scored the next two baskets to give Stanford the lead for good. 

Chiney contributed 27 points, 18 in the second half. She only had seven rebounds, so no double-double. Unfortunately, USC got many second chance rebounds. They good news for Stanford is they didn't actually make the second chances. 

Bonnie Samuelson added 14 points, made two 3-pointers, and more importantly made all eight of her free throw tries, including four straight free throws in the closing minute. Which was a good thing because USC swished a three with 18 seconds left and was within three (59-62). Bonnie was fouled again and sank the shots for the final score of 64-59. The 19 point deficit tied a Stanford record for largest comeback in a victory. 

With the win, Stanford clinched a share of its 14th straight Pac-12 regular season title.They can become the sole champions with either a California loss, or a win on Sunday over the UCLA Bruins. Stnaford secured the Pac-12 Tournament's #1 seed.

It's Beat LA on Sunday, at UCLA. 
---
February 16th- Stanford Rains Threes on Arizona

So this is the story of the Stanford Women's Basketball Team. During their loss to Washington they shot too many threes (and didn't make many threes, going 9-41). Then against Arizona State, they didn't shoot enough (or make enough, going 0-4). Then against Arizona, they shot (and made) just right…you get the idea. 

Bonnie Samuelson Shoots Lights Out (Photo Courtesy Stanford Athletics )

First, on to the downtown party. Let's set the stage. Stanford's Lili Thompson hits a three with 15 minutes left in the first to tie the game at 11. Then Stanford three-point specialist Bonnie Samuelson came in, she hits all kinda threes (three of them). Stanford goes on a 28-2 run over 10 minutes and it's now 36-13 with five minutes left. Stanford's inside player Chiney Ogwumike scores 11 of her 15 points during this period. 

Bonnie would also hit three more in the span of one minute and ten seconds towards the end of the half. Freshie Kailee Johnson heaved one with the clock ticking down just before the half and got in on the fun. Lili Thonpson, who scored nine points, and Taylor Greenfield, who scored six points, would each swish two three pointers, and guard Amber Orrrrange would add nine points, all from three pointers. She hit three of four from behind the arc and also passed out nine assists. Over all, Stanford hit making 13 threes on of 24 tries! Ten of them were in the first half! Just right indeed. 

And how was Stanford's defense this game? Also just right. They held Arizona without a basket for a ten-minute period in the first. The half ended with a 49-19 Stanford lead. Stanford would build up a 40-point lead. Not a typo folks, 40 points. How was Arizona's three point shooting. They were 0-5. 

Bonnie Samuelson hit five 3-pointers which is one shy of her career high. All of Bonnie's 17 points were in the first half, and she scored 17 points in 16 minutes. She also was Stanford's high scorer. Sister Karlie (KSam) who can also shoot a three was out this with a foot injury but is expected to return next game. ESPN reported it got stepped on Feb 7th. 

When the lead got to 40 with 15 minutes left to play in the second, Coach Tara VanDerveer pulled her starters. Chiney Ogwumike, who usually averages in the high 20's and gets a double-double at the drop of a hat, finished with 15 points and nine rebounds in 22 minutes. It was only the second time this season that Chiney Ogwumike wasn't Stanford's leading scorer. We know TVD doesn't care about records and just wants to win, but we hate to see Chiney's numbers suffer. Those east-coasters are easily swayed by numbers and we want them to vote her player of the year! 

Stanford holds a three-game in Pac-12 play with four games left.
---
February 15th- Stanford Stuffs Arizona

Coming off a rare Pac-12 loss, everyone, including C and R, was curious to see how the Stanford Women's Basketball team would respond. Well, if it is a Tara VanDerveer coached team, you know it will be with intensity and focus. And Valentine's Day was a great time for the fans to give their team some extra lovin', not that they needed it. 

So yes, Stanford came out extremely focused on defense against Arizona State University. I am sure the message TVD hounded into them that their defensive efforts the last two games (included a loss to Washington) needed much improvement. So how did Stanford respond? They held ASU without a bucket for the first 8 minutes. ASU scored just 12 points in the first half. Yes, 12 points, tying the Pac-12 record of the lowest point total for a half. The final score was 61-35 and those 35 points ASU scored was one away from tying another Pac012 record for fewest points scored in a game. Stanford also held ASU to 24% shooting for the whole contest. Stanford by contrast shot 53% for 40 minutes. 

On the offensive end, Stanford was just as intense. Last game Stanford took 41 three-point shots. That is not necessarily a problem. But when you only make nine of them, really six for the game and three in a final fury in the last two minutes, it really is (a problem, I know long sentences). Couple that with NO one from Stanford driving to the basket and the other team collapsing on your best inside player of Chiney Ogwumike, well, it is no wonder Stanford lost that game. This game, however, the guards showed they received the message and drove and slashed inside to score. The first three-point attempt came many minutes into the game. And maybe they were too tight, as Stanford did not make a single three. They were 0-4 from the field. Interestingly, the San Fran Chron said ASU limited Stanford's three point attempts, as the stats would bare out, but I honestly think Stanford limited themselves and was in a mode to score off of drives then from threes. Potato, potatoe. 

Guards Lili Thompson and Amber Orrange were aggressive scorers inside (Marcio Jose Sanchez / AP Photo)

No, they are not holding Chiney Ogwumike (Marcio Jose Sanchez / AP Photo)

So how did Stanford score? The guards drove and slashed inside, which resulted in ASU leaving Chiney guarded one on one. And what folks, do we say when Chiney is left alone one on one in the Pac-12 or against most other teams? Chiney all day. She scored 20 (18 in the first half) and was only limited by coach TVD who sat her with 12 minutes left to play. And hats off or hearts out to Chiney who can score 20 and grab 13 rebounds for her 19th double-double of the season in just 27 minutes and with ASU clearly holding her, meaning physically holding her for much of the game. And when Chiney came up high to the foul line it opened the back door up for the guards, in particular Amber Orrrrange and Lili Thompson. Lili scored eight and Amber had 14. 

And hats and hearts out to guard Amber Orrange (so much we will spell her name correctly. It is with two "R"s). She had one of her best hustle games in a long time. She definitely took the message to heart and amped up every level of her game. She had a career-tying five steals. She was leaping for steals, picking pockets for steals and hustling for steals and one steal and incredibly quick fast break to the basket, wow, hope to see that type of play every game. 

Stanford is firmly in the drivers seat for the rest of Pac-12 play and to get that bye in the Pac-12 tournament  Game again on Sunday. 
---
February 9th- Stanford Can't Come Back Against Washington

Maybe it was the snow, maybe they were tired, but the Stanford Women's Basketball team did not play their game and lost to Washington 82-87.  

Washington's Kelsey Plum puts a shot up over Stanford's Mikaela Ruef (Elaine Thompson - AP Photo)

Hats off to Washington, as they played Stanford's game. They shot uncontested threes (9-22 for the game, or 40 %) and when they were contested they drove the lane to get buckets or fouls. Help defense, which Stanford has been so good at it all year long, was again noticeably absent for Stanford for the second game in a row. Washington freshmen Kelsey Plum scored 23 in a variety of ways, including making three of five 3-pointers before fouling out in the final minutes. Washington also played a zone defense that limited what Stanford could do. 

Stanford's offense, meanwhile, was staying on the three point line, and the guards were not driving, not penetrating, not rebounding and not forcing Washington to come off of Chiney Ogwumike, who usually has a great game inside against one on one pressure. Chiney was held to eight first half points. She did come out and score nine straight in the second then Stanford forget about her. She did not make a basket in the final 7 and a half minutes (she made one of two free throws with 7 seconds left). 

And those threes that Stanford shot! Stanford missed the first seven in a row, setting the tone that Washington didn't have to guard them up top and could sag on Chiney. Stanford went 9-41 on three point attempts for the game (three of the nine made came in the last two minutes in a furious comeback attempt). And those long, crazy rebounds would bounce far away form Chiney waiting under the basket, but not back out to the three point line, so Stanford had no hope of getting an offensive rebound.

Hats off to Stanford, too, for those last two minutes. For all of Stanford's mistakes and lack of effort, they almost turned it around. Gotta admire the "no quit" attitude. Stanford was down by 11 with 2 minutes left and started the "foul game." Stanford got it to within three points, 85-82, with five seconds left. Bonnie Samuelson scoring 11 of those 14 points, connecting with three 3-pointers and two free throws. But with 5 seconds left and Washington inbounding under Stanford's basket, Chiney had to grab the jersey of a streaking Washington player to stop a fast break. It was correctly ruled a flagrant foul, meaning Washington gets the shots and the ball to effectively end the game. The forcefulness of Chiney's foul wasn't like other games, such as the two Cal games, that were let go as regular fouls, but we don't want to be cry babies. Washington would hang on to win by five, 87-82. 

Washington's 87 points were the most scored against the Stanford this season. The loss snapped a 62-game road conference winning streak for Stanford as well. 

Kudos to fifth year senior Mikaela Ruef. She set personal bests with 16 points and 22 rebounds, her 4th double-double of the season. Chiney scored 23 points and grabbed 14 rebounds, for her 18th double-double and 21st game of at least 20 points this season. Freshie guard Lili Thonpson added 13 points, and made three 3-pointers. Bonnie chipped in 14, as we mentioned, and 11 in the final two minutes. 

Back to Maples for Valentines Day. I think they are going to need some lovin' from their fans. 
---
February 8th- Stanford Survives Washington State

So Washington State obviously didn't follow the Pac-12 script. The Stanford Women's Basketball team had a slight lead at the half (28-24) and then Chiney Ogwumike came out like gangbusters in the second, yet WSU refuses to fold. Don't they watch film? 

WSU started out in a zone to limit Stanford's Chiney Ogwumike's inside game. Usually that is not a problem. Stanford has some three-point specialists they use to open up the outside game and to pad the score until they force the other team to come out on them. Then they throw it inside to Chiney, where Chiney has a field day. This time Stanford seemed to forget their script, too. They only made two 3-pointers out of eight attempts in the first. And they forced it inside to Chiney, to the point of many turnovers (I think 11 in the first). The good news for Stanford is that WSU couldn't hit the broad side of the barn it the first half and could not capitalize on Stanford's mistakes. 

As we all know, Chiney has been working on her outside shot, and while her three ball isn't pretty or even there, she did settle from some nice long jumpers in the paint. She proved that when her path to the basket is blocked, or her favorite angle off the blocks isn't there, she can hit those little floaters and find other ways to score away from the basket. 

Chiney Ogwumike goes for a lay-up against WSU (Dean Hare / AP Photo)

The second half opened with Chiney on fire, but Stanford forgot to play defense. For WSU, it became the Tia and Lia show, that being Lia Galdeira and Tia Presley. The two speedy guards drove the lane and no one stopped them. Galdeira led WSU with 21 points while Presley scored 20, making the pair the first teammates to each score 20 points in a single game against Stanford since December 2010. That shows some good Stanford D. 

There was no help defense when Tia and Lia drove past the Stanford guards, and that responsibility usually belongs to Chiney. Stanford has stopped that all season long, not sure why it did not happen in this game. 

And when Stanford defense broke down, no one not named Ogwumike scored much in the second. This game was a remnant from last year, where Chiney scores and everyone else watched. C and R aren't math majors, but Chiney has over half of Stanford's points. While two other Stanford players got to 11 points, it was at the end, mostly on free throws from intention fouls. Not a good scoring night for Stanford 

Curious, Stanford did not get a free throw in the first half, yet went 13-16 in the second, mostly off of WSU fouling at the end. Also Stanford had only 12 assists, the lowest since November of last year. Perhaps Stanford wasn't driving or being as aggressive on offense in the first. WSU on the other hand was 10-20 for free throws and those missed points were sorely needed. The final score was 77-69 but the game was much closer then it that, and was even tied with five minutes left to play.  

Highlights:
Chiney Ogwumike matched her career high with 36 points while grabbing 17 rebounds. She posted her 11th 30-point game and her 17th double-double of the season. 

Taylor Greenfield had 11 points while posting career highs of nine rebounds and five assists. Amber Orrange scored 11 points with six rebounds and three assists. Freshman Karlie (KSam) Samuelson scored nine points as both she and Greenfield went 3-for-4 from behind the arc. They accounted for all six of Stanford's made three pointers. 

Next up is Washington. Maybe the snow is throwing Stanford. Let's hop they are more acclimated by now. 
---
February 2nd- Battle of the Bay Part II

Second time is a charm, too. So the Stanford Women's Basketball team figured out a better way to beat Cal. Forget building up a 30-point lead only to have it slip away and barely win in the final seconds, as it went just four days ago at Stanford. This time, Stanford, on Cal's floor, knew to instead keep a nice 10-point cushion all game long. Well, first go on a 24-7 run late in the first half to go ahead 33-19 to build that nice lead, mostly with All-Everything Chiney Ogwumike, then, play they score a basket, we score a basket. 

Well, it wasn't that simple. At first Chiney, who plays center and has made a living of scoring off the low blocks, in particular with a wicked one-handed bank shot off the glass was settling from long jumpers and even a three point attempt. There was an air ball in there somewhere. Then she said, oh forget this, and went back inside and scored at will (Can't remember if that was before she lost a contact or after). 

If any team were to look at film of when Stanford lost in the last two years and Chiney had a bad game, they would see it was because she was pushed off the low block and had a bad angle to the glass and couldn't bank a shot in (in particular the UConn games). Teams have tried to replicate that but C and R have noticed that in the last few games Chieny has now adjusted and when pushed outside the paint or has a bad angle to the basket, she hits a floater from the side of the basket, eliminating the glass. Guess what, it goes in. And she did that a lot during Cal Part II. 

The ESPN 2 announcers said Cal's plan was to double team Chieny with a guard coming over to help. But the guard would come late (basket for Chiney) or arrive on time and Chiney would pass out of the double team to set up her teammates. That opened up driving and scoring opportunities for players like freshie forward Karlie Samuelson, who finished with 16 points and guards Amber Orrange, who added 13 points. 

Chiney Ogwumike looks for an open teammate as California double-teams her with defenders (D. Ross Cameron/Bay Area News Group)
Chiney scored a game-high 29 points to go with eight rebounds. Mikaela Ruef scored nine and grabbed a game-high 11 rebounds with five assists and once again played shut-down defense on California's leading scorer Reshanda Gray. Gray got her first basket with about a minute left in the first and finished with had just seven points with five rebounds after being held scoreless three days ago. Gray also fouled out with 5:09 left. 
This being Superbowl weekend, they say defense wins championships. The defense of Ruef and Ogwumike limited California's top three post players (Reshanda Gray, Gennifer Brandon, Justine Hartman) to a combined 11 points on 4-for-16 shooting. 
Last game, a hard foul by Cal's Brittnay Boyd sparked Cal and lead their comeback from the 30-point deficit. Early in this game, Cal's Gray took her arm off the basketball to swing at Chiney and hit her in the face. The announcers said that should be flagrant...yet the refs just kept it as a regular foul. This time, though, it did not spark a rally. These teams don't like each other. 
The refs made a point to call contact in this game, though, a contrast from last game. Cal had seven personal fouls before Stanford got whistled for one with about eight and a half minutes left in the first.  Everyone's favorite ref, Melissa Barlow, gave the Cal PA announcer a sharp warning after announcing Stanford's first foul with a little too much emphasis. Don't think she appreciated the sarcasm, said Twitter. 
Still, Cal has swagger at home, and in the second half, their best play was guard Brittany Boyd driving down the lane and drawing contact. And again, Stanford did not stop it. Except for the final minutes, both Ruef and Chiney blocked her. Boyd would finish the game with 20 points. 
Cal had to play the foul game the last few minutes and Stanford went 12-of-14 from the free throw line over the final four minutes to take a 79-64 win. Karlie Samuelson made all six of her attempts from the line over the final 1:40. Stanford was 24-30 from the line. 
Stanford is undefeated in Pac-12 play and now plays everyone again. The announcers pointed out that Stanford will have a hard time not because the teams they play are ranked in the top 25, but because everyone will bring their "A" game when they do play them. We will see if the unblemished record stands. 
---
Back to the Stanford Women's Basketball Blog

or check out the other months of C and R