July 2015 Stanford Women's Basketball Archives
(See Twitter for most of our witticisms)
July 25- Stanford Players in the WNBA at the All-star Break

The end of July marks the half way point for the WNBA, and that means the All-star game. Hats off to former Stanford Women's Basketball player Nneka Ogwumike for making her third straight All-star appearance for the West in four years in the league. She was named as a reserve, mostly due to her slow start this season because of injuries.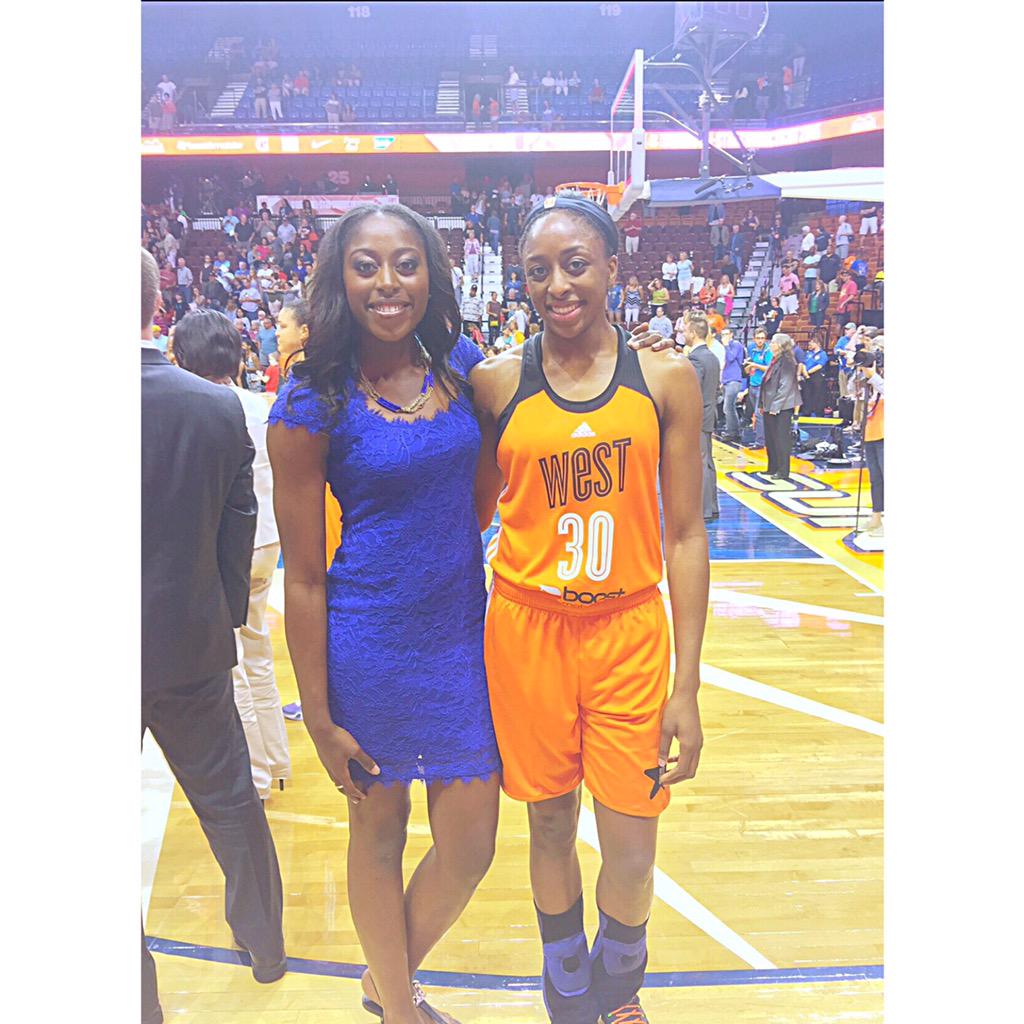 photo Courtesy of Chiney Ogwumike

The other former Stanford players didn't fare nearly as well. Little sis Chiney Ogwumike, who was drafted number one last year (same spot as Nneka in 2012) and won Rookie of the Year (same as Nneka in 2012), suffered a knee injury while playing overseas (and trying to make more money). She had knee surgery and will sit out this WNBA season. Drat, we really wanted to see her growth from rookie to seasoned vet. She has, however, found ways to occupy her time, making many appearances on TV, including a half time stint at the All-star game (It was on her home court of the Connecticut Sun, and she was photo-bombed by big sis Nneka. We saw you steal a sip of her water, sisters have no boundaries!).

What about other Stanford alum in the WNBA? Jayne Appel, playing for San Antonio started the season injured, and just found her way back into games. Kayla Pederson remains with former teammate Chiney Ogwumike in Connecticut. Nicole Powell retired before the season started, but has landed on her feet coaching for the Oregon Ducks, a Pac-12 foe for Stanford!

Jeanette Pohlen returns to Indianapolis after missing the 2014 season due to a torn left Achilles tendon. She won a WNBA title in 2012 with the Fever, but it was bittersweet as she was injured in the playoffs and did not play in the championship game. Candice Wiggins, also a WNBA champion with the Lync in 2011, started her eighth season in the WNBA (my, how time flies!). It is her first season with the New York Liberty (if you can make it here, you can make it anywhere). Wiggins was the 2008 WNBA Sixth Woman of the Year, and has averaged 9.6 points in her career while playing for Minnesota, Tulsa and Los Angeles.

Unfortunately, Amber Orrange, drafted by the Liberty with the 23rd overall pick in April of this year, was waived by the team in May.

Overall Stanford has had 27 players play in a regular-season WNBA game since the league's inception in 1997. Tara VanDerveer's program boasts 11 first-round draft picks and has had six players win a total of seven WNBA titles.

Oh, the West side (the best side) won, 117-112.

Looking forward to seeing basketball in the Fall and Winter.
---
Back to the Stanford Women's Basketball Blog

or check out the other months of C and R