November 2014 Stanford Women's Basketball Archives
November 30- Stanford 2-1 in Hawaiian Tournament

So how was your Thanksgiving Weekend? C and R's involved too much pie. For the Stanford Women's Basketball team, they were in beautiful Hawaii for the Waikiki Beach Marriott Rainbow Wahine Shootout. They also had to play their third ranked team in two weeks, the University of North Carolina. A team that was ranked #10, annd is tall and physical like Texas, yet could hit threes. Stanford fell 70-54.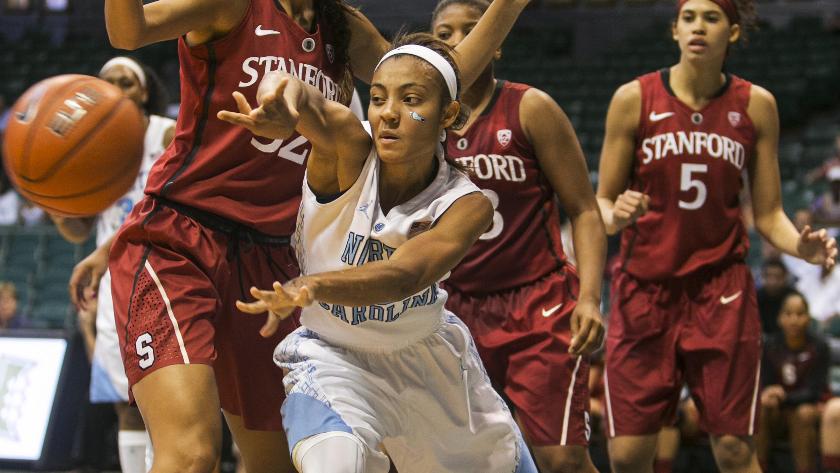 Stanford could not stop North Carolina (Photo-UNC Twitter feed)
And while we didn't see the game (see pie excuse, possibly in pie coma), it sounds as if Stanford could not get an inside game going (like Texas). This is proving to be a huge problem. And also could not stop the other team from going down the middle. The box score is ugly. To be fair, Stanford held UNC to 24 first half points. To be brutally fair, Stanford only scored 18 in the same time period. Both teams shot dismally in the first, with the teams combined for 15-of-66 from the field (22.7%).
Let's hear it from Stanford head coach Tara Vanderveer's mouth:
"Our defense in the second half wasn't as good -- our defense in the first half was better," VanDerveer added. "Our offense was very stagnant and we just need more people contributing. We don't have much of an inside game right now, which we have to work on. We weren't moving the ball as well as needed to and we were flat and we can't play that way."
Second Game vs. Host Hawaii:
Although Lili Thompson was the leading Stanford scorer in the UNC game with 15 for the losing cause, she found her Hawaiian mojo and led all scorers with 26 points in this one. She also shot 6-7 on threes. Stanford beat up on the host team 86-73.  In case you didn't know, Lili spent part of her childhood in Hawaii and had some friends in the stands.
Stanford had four players in double figures. Guard Amber Orrange added 19 and Erica McCall added 11 points and grabbed nine rebounds. Freshman Kaylee Johnson added 10 points and eight boards. Again we didn't see this so can't add much but I know coach was happy with Erica's 11 as she played and scored inside more. However, one game against an unranked opponent doesn't' mean all problems have been fixed. Hope Stanford can build on this.
Third Game vs Prairie View A&M:
The third game was against Prairie View A&M. Surprisingly, these two teams had never met. And PVA&M probably wished they hadn't. Stanford led 52-18 at the half, after falling behind and then going on a 23-0 run. Coach VanDerveer was in a Thanksgiving mood and let all 14 players play, and 13 scored at least 2 points.
Highlights in this one:
Erica McCall had 13 points and nine rebounds. Stanford shot 54.5 percent from the field, and was 11 of 18 on 3-pointers, and made 17 of 21 from the free throw line. Karlie Samuelson hit three of six 3-point attempts for nine points and Kaylee Johnson added eight rebounds, three blocks and two steals for the Cardinal. Bri Roberson had 12 points, a new career high. Freshie Brittany McPhee had a career high eight points in this one.
Stanford flies back to Cali however we don't see them until Dec 14 at Maples. I think the Stanford players have finals in that time frame, so best of luck to them.
---
November 24- Stanford Holds off New Mexico

So the Stanford Women's Basketball game at New Mexico started out Stanford enough. Stanford, even though without their leading scorer Lili Thompson (illness), found themselves up 22-6 in the first five minutes. Credit Karlie Samuelson (KSam) with four made threes for 12 points in that span.

Then New Mexico stopped the threes, and like Texas, they also stopped Stanford's screen and drive to the basket game. Stanford was stuck, could not score, and when you watched on the free streaming video from the Mountain West Network, no on in a black uniform (which C and R love) was even within three feet of the paint. New Mexico clawed back and took the lead. Stanford didn't have an inside game and could not penetrate inside. The low scoring half ended with Stanford's Amber Orrange heaving a three and banking it at the buzzer to tie it at 35 (yes, Stanford was down at that point, as NM went on their own 21-4 run).

One fiery locker room talk from Stanford coach Tara Vanderveer later and Stanford comes out and goes on a 14-2 run in the first five minutes. Then Stanford, without a strong post presence, could not stop NM when they drove. New Mexico actually took the lead, 65-64, with 45 seconds left in the game, going on another run, this time out scoring Stanford 12-1.

Stanford forward Kaylee Johnson (MARK HOLM — AP Photo)

Still, credit Stanford for rebounding tough, especially Kaylee Johnson. The Freshie starter and pride of Wyoming grabbed a career-high 22 boards, 15 in the first half, and Stanford won the rebound battle 50-31. She also scored 10 points and hit the go-ahead free throws with 30 seconds left. Stanford would hang on to win 70-65.

Other notables, KSam hit six 3-pointers and scored a career-high 23 points and sister Bonnie Samuelson (BSam) added two free throws in the final seconds to help preserve the victory. As R said, Bonnie is automatic. The ball didn't even rest in her hand before it was in the hoop. Kaylee Johnson's 22 rebounds is only the 12th time in Stanford history a player has produced 20-plus rebounds in a game. Brianna Roberson, she of the tiny and the speed, knows she can't take on a post player straight up on offense, so continues to use her speed and just run at the basket and shoot. She gets the foul call almost every single time. She was 3-4 from the line. Amber Orrange added 18 points, including that banked-in 3-pointer from more than 30 feet at the first-half buzzer. She also had the block with seven seconds left to keep New Mexico from even getting a shot off when Stanford was only up by three, 68-65.

Get better Lili. Get taller Erica McCall and Kailee Johnson so Stanford can utilize the post position more. Go soak up some sun in Hawaii, Stanford. Should be good for what ails ya.

Everyone have a happy Thanksgiving.
---
November 20- Stanford Can't Stay on Top, Fall to Texas

Stanford did not lead for the majority of the game…they were down by 10 at one point…Amber Orrange kept Stanford in it with some clutch shooting near the end…the game went into overtime…no, dear reader, you are not suffering deja vu nor is this a late write up of the UConn-Stanford game. This was the Texas-Stanford game, and it had a different ending, too.

So four days ago, the Stanford Women's Basketball team executed a well thought out and rehearsed game plan, and knocked off then #1 UConn, winner of last year's championship. Four days later, Stanford accidently found itself ranked #1 by the coach's poll and yet the team looked like they were suffering an emotional hangover on the floor. No energy, not much emotion when things were going well, which, granted, wasn't often (So here's a picture of Lili showing mucho emotion).

Stanford guard Lili Thompson celebrates after getting fouled. (BECK DIEFENBACH — AP Photo)
Even when Texas tied the game with 1.4 seconds left Stanford didn't attempt a shot. Which is strange because, remember the UConn game when Amber Orrange tied the game with 1.4 seconds left? Stanford's three point specialist Karlie Samuelson (KSam) got the ball with 1.4 seconds left and dribbled about ¼ of the way up the court and didn't even attempt a shot. You're the 3-point stud, maybe they even foul you, at least take a chance!
As C and R mentioned, the game went into overtime tied at 75 (And Stanford only got the lead with about 1:43 left). And C and R are thinking, Stanford must be telling each other in the huddle… Overtime is our time, we know how to do this, we beat UConn in overtime, no problem, we got this. But instead they just looked tired. They got behind and had to play the foul game and ended up losing 87-81.
To be fair, several players were nursing injuries, Taylor Greenfield and Ksam were limping at several points throughout the game, and Lili Thompson hit the floor numerous times, in this and the UConn game.
However two things stick out. Texas must have seen the UConn game film on Stanford's screens to free the guards and were all over it. Stanford had a very hard time penetrating the paint like they could against UConn. Once that did not work, Stanford didn't seem to have too many options. And Texas had height and boxed out well. Hard to get rebounds.
And the second thing is with no real post presence for Stanford, Texas could drive all day and not get stopped. They executed their own pick and roll and both Stanford players stayed on the ball handler, letting the tall screener roll to the basket unimpeded. When the ball was passed to the tall screener, a third Stanford defender would rotate over, not in time to stop the shot, but just in time to foul. Texas successful did it twice in 45 seconds, they were so sure it could not be stopped. That and stopping drives must be addressed.
Okay, Game Balls:
Lili Thompson had 28 points and seven rebounds. Third straight 20+ game. Brianna Roberson made eight free throws for a career-high eight points while filling in for Orrange, who got in foul trouble early in the first half, and fouled out in overtime. Amber did score 15, and as we mentioned, always at key times when Stanford really needed a basket. Freshie Kailee Johnson again rebounded well, pulling down 13 against bigger players and added seven points.
Yes, Stanford's own home streak ended, but did you know in their last 113 games at Maples, Stanford is 110-3?
Well, don't feel to bad for Stanford. They travel to New Mexico before heading to HAWAII for the Rainbow Wahine Shootout Thanksgiving Tournament
---
November 17- Stanford Beats UConn in OT 88-86

There are so many outstanding moments to highlight in Stanford's come-from-behind, overtime win over #1 UConn, ending a 47-game win streak. Yes, that's right, we said it... The Stanford Women's Basketball team beat UConn!!

Nom, Nom Nom
That is the sound of C and R eating their words. Heck, it is the sound of the Nation eating their words. NO one believed Stanford could do it, not the National Media, not the local media, not UConn, not the Stanford fans, not the bloggers and tweeters, including us, Stanford's biggest homer fans. Heck, even Stanford Head Coach Tara VanDerveer was hedging her bets, saying in a SJ Merc article that this will be a great learning situation regardless of the score, just want to see the team battle. Mea Culpe to you, Stanford team.

Stanford's Amber Orrange (33) takes on UConn (Nhat V. Meyer/Bay Area News Group)

So, as we said, there are so many great moments in this game. The Freshmen Kaylee  Johnson pulling down big boards (wonder how those announcers faired on ESPN2 with the two Johnsons, Kaylee and Kailee, no relation, and the two Samuelson sisters, who are related and what about youngest Samuelson going to UConn? Think she is regretting that decision right about now? But we digress).

Oh yeah, big plays: Stanford guards Amber Orrange and Lili Thonpson driving the lane for baskets in TVD's new offense, including Amber's pair of lay ins in the final seconds to keep it close. Or how about Amber's three with 1.4 seconds left in regulation to tie the game at 77? UConn guarded the Samuelsons but left Amber alone…BAM. Lili was flying all over the floor and scored 24, including two free throws to cut the lead to 71-70 with 42 seconds to play. However it was Amber Orrange's 17 points at key, key points that kept Stanford in it. Amber even made a go-ahead jumper with 1:38 left in overtime, and was trending on twitter, something that is hard to do for women's sports.

And what about D? In overtime, Stanford forced a 5-second violation and prevented the Huskies from getting off a final shot on OT. Stanford shut down UConn's three point shooter, Kalena Mosqueda-Lewis. She was guarded primarily by Karlie Samuelson, had only two points in the half. She only got four shots off and missed them all. Her points came on the free-throw line. She finally made her first basket, a three, with 9:40 left in regulation. UConn's preseason All-America Breana Stewart, at one point in the second half, scored about 8 points in like, two seconds to start to pull UConn away, and C turned to R and said, oh no, here we go. She looks like a player who could take over a game, like our very own Nneka Ogwumike. And then she disappeared. If she can learn that skill to go for the kill, then they will be unstoppable. This variation of UConn looked beatable.

But, there before the grace of god go I...or us...or Stanford. Really, with a two point win in OT, it was really just one bad foul call away from going the other way. I just want to give a shout out to all the UConn fans I saw in social media. They were gracious, and if there were any bad sports, C and R don't want to hear about them. Yes, this is just the second game of the season, both teams will look very differently in March, when the games really count. We know, we know. Someone on twitter said, after watching the Stanford student body storm the court, geez, Stanford acts like they won the National Championship or something. When you feel like an underdog, and it is reflected back to you by so many outside sources, this IS a national championship, a very hard thing to win, and something that those players will remember forever.

Looking forward to a great season! C and R really, really mean it this time!
---
November 15- Stanford Beats up on Boston College

There is a saying in sports about a full scheduled of games, and it goes something like, "Take it one game at a time." So with the Stanford Women's Basketball Team showing a great second half of basketball to beat Boston College 96-63, C and R will try to talk only about this game and not what comes next… which is UConn, the preseason favorite to repeat as National Champions.

The Stanford guards harassed BC's back court and got three steals each which I think they converted all into lay ups (Can they repeat this against UConn… oh darn, we said we weren't going to do that). The guards also pushed the ball up the court and made some great passes to some front court players who were cutting well and very open, only to have those players not be able to put the ball in the basket. This allowed BC to stick around and tie the game with about 6 minutes left before Stanford started pulling away.

To be fair, BC hit a lot of threes in the first half, nine to be exact. Stanford head coach Tara VanDerveer, the master of half time adjustments simply said at the break, "If they make a 3 on you, you're coming out," What motivates some…however, guess how many threes BC made in the second…that's right, zero. They shot five times behind the arc after that half time statement and missed them all. No one had to sit down and Tara got to give all 15 players some playing time.

Ball screens worked well, but will faster players adjust to them better? (Sorry, sorry, sorry, said we wouldn't do that). Also, Stanford players attacked the basket with dribble penetration, something C and R have not seen a lot of in the last few years. I think the players like taking it to the other team and did not show fear.

Lili Thompson (Photo: Brant Ward / The Chronicle

Guard Lili Thompson scored a career high 26 points, hitting three of four three-pointers.  BC knocked her down, twice, on hard screens, the second time she had to limp to the bench and leave the game, only to come back later and hit two of those threes. Erica McCall also had a career high with 16 points, and she looked eager to grab rebounds.

Stanford had four players in double figures. Guard Amber Orrange had 11 points and was leading rebounder with nine. Taylor Greenfield scored 10 and relished her freedom to drive to the basket. All the freshmen scored, with Kaylee (Kale) Johnson getting the start and Brittany McPhee hitting her first shot, a three.

And how did UConn do on their first game on their West Coast Tour? They beat UC Davis 102-43, including  a 39-0 run. The Huskies made 18 three-pointers, Kaleena Mosqueda-Lewis tied Maya Moore's school record with 10 three-pointers for 30 points in just 24 minutes. Wonder if VanDerveer would give the same ultimatum at half time? (PS, Geno is going to wine country before Monday's game. C and R can only hope he goes off on some sort of wine bender and can't find his way to the team bus! We kid, we love you Geno!)

Whoops, wasn't going to mention UConn. However, to be fair, TVD has said it is a win-win situation playing them regardless of the outcome. It will only help Stanford get better. And it will be fun to watch the team's growth the rest of the season.
---
November 8- Stanford Wins Second Exhibition Game

The Stanford Women's Basketball Team won their second and final exhibition game against UC San Diego 74-51. This game was most memorable because it is the first time the VanderVeer sisters are coaching against each other as head coaches.

Tara VanDerveer in the Hall of Fame coach for Stanford's squad who used to drag little sister Heidi around to basketball camps in a beat up ol VW bus when she was just starting her basketball journey. Little sister Heidi VanDerveer, head of UC San Diego just wants big sis's approval (and is very, very familiar with the Cardinal). Mom Rita was in attendance wearing a UC San Diego T-shirt and a Stanford sweatshirt. Guess which logo was on the outside? Smart of Tara to send the sweatshirt then…always thinking.

The VanDerveer sisters, Tara and Heidi (Photo Courtesy: Heidi VanDerveer)

The Stanford players, admittedly by coach as a team without a superstar that will get things done by committee, had four players in double figures. Erica McCall had 18 points. Taylor Greenfield added 16, 14 in the second half. Guard Lili Thompson had 10. Senior guard Amber Orrange had a double double with 11 points and 12 rebounds, something guards don't normally do. Freshie Kaylee Johnson had 12 rebounds as well. And it was a block party with 12 blocks from six different Stanford players. (One each by guards Lili and Amber. Now that is stepping up!)

Stanford fans also got to see freshie guard Brittany McPhee for the first time. She is battling some injuries. She scored 4 points in 9 minutes. During her high school career, she had more points than Stanford great Kate Starbird. We learned from the post-game talk that she has a twin sister named Jordan who plays for Seattle Pacific and runs the mile faster than she does. Here's more on these amazing Freshmen women.

Still it was hard to get a feel for the team as they start the season against Boston College and then play their second game against a very stacked UConn team here at Maples.

See ya when the season starts.
---
November 2- Stanford Shines in Preseason

Stanford women's Basketball Fans got a look at what we have been waiting for: The Stanford Women's Basketball Team. More specifically, this offense that is dubbed "not the triangle."

Stanford played NAIA Vanguard University, and despite the lack of height (although Vanguard was even smaller), ran all over them to the tune of 105-50. And boy do we mean run. Sophomore Briana Roberson is so, so quick.

Sophomore guard Lili Thonpson is picking up right where she ended her freshmen year, hitting killer shots, pushing the ball, seeing the floor well, and not backing down. She was a bright spot among many (four Stanford players in double figures). Lili scored 26 points. Fellow sophomore Erica McCall had 15 points and 10 boards, one of the players in double figures but she hit hers in the first half! Karlie Samuelson (KSam) added 17 points in 19 minutes. Her specialties are threes and she was 3-6 behind the line. Freshmen Kaylee Johnson had 12 points and 16 boards.

Lili Thompson goes for two (Photo Courtesy of GoStanford -Stanford Official Site)
Yes, we have two players with the same last names, and no they are not sisters. One is Sophomore Kailee Johnson and one is Freshmen Kaylee Johnson. One is pronounced Kay-lee and one is pronounced Ki-lee, but we can't tell you which one is which. Not to be confused with two players with the same last name of Samuelson, who ARE sisters. Senior Bonnie and sophomore Karlie, hence the BSam and KSam nicknames. Maybe for the Johnsons, KJ1 and KJ2 for the freshie? Or thing 1 and thing 2? What do they do in practice?
Speaking of freshmen, C and R were hoping to get a good look at all the freshies, but one stayed under wraps and on the bench. Kailee Johnson started and scored (See above), Taylor Rooks came in the second half but did not score. We did not get to see freshie Brittany McPhee.
So Stanford proved they were able to score without a triangle or a super tall person. There were a couple of times where they did all the right things, cut to the basket, passed, hit the open man, but the ball did not fall. That is fixable and will come later. C and R were a little leery of the defense. When a Vanguard guard drive by our guards, other Stanford players had trouble picking them up and impeding their path to the basket. Something super all-everything Chiney Ogwumike was very, very good at doing. But it is still early…. And preseason.
Looking forward to more.
---
Back to the Stanford Women's Basketball Blog

or check out the other months of C and R