November 2015 Stanford Women's Basketball Archives
November 29- Stanford Wins Gulf Coast Showcase

Round 1

The Stanford Women's Basketball team opened the Gulf Coast Showcase playing Missouri State. Stanford, coming off their worst loss in a long, long time (well, C and R don't know if it statistically was their worst loss, but the team looked really bad in the 61-58 loss to Santa Clara). This game Stanford was rebounding and out hustling Missouri State, a welcome change from the lost. The story of this game, though, was the threes; more specifically, the 15 made threes on 33 tries. Stanford won 82-65, although it was troubling the way the other team could drive all the way to the basket for lay ups. Stanford needs more help defense.

Round 2

Stanford played Dayton, Shannon Coffee's and my hometown. This game was saved by our Aussie, Stanford's first international recruit, Alanna Smith. She finished the game with 22 points, including 6-8 from behind the line, doing her best Bonnie Samuelson imitation. Lili Thompson scored 15 of her 19 in the second half, after Stanford got behind by 12 in the first half. Stanford went on an 18-5 run in the third quarter and held off Dayton 74-66.

Round 3

Stanford made it to the championship game of the Gulf Cost Tournament versus Purdue, and just what is a boiler maker? At least they weren't lady boiler makers, and we did like the Purdue announcing saying "Boiler up!"

The game was pretty even at the half, with Stanford enjoying a 26-21 lead. About the only difference was Stanford was 3-10 from three point land and Purdue only made one, on seven tries, in the final seconds. Purdue took the lead in the third quarter and both teams traded kept trading the lead. And yes, this time Purdue was hitting their threes. The third quarter ended with Purdue enjoying a 45-44 lead. More see-saw lead changes and we had ourselves a tie game at the end of regulation, 59-59. Bri Roberson also hit her threes, going 5-6 from behind the arc and led all scorers with 26. Lil Thompson added 17, including 9-9 in free throws. Stanford hung on to win the championship 71-65.

BTW, the 2015 Gulf Coast Showcase MVP was Lili Thompson. Miss Dependable averaged 21 ppg and 6 apg. Glad to see her stepping up!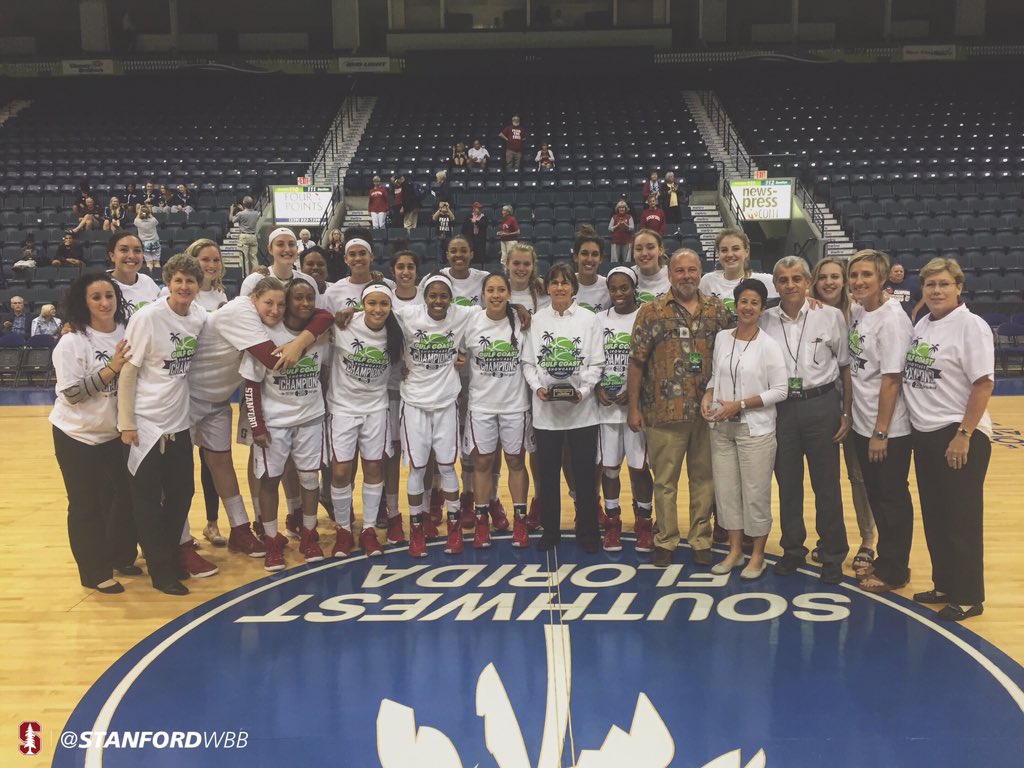 Champs! Photo Courtesy of Stanford Women's Basketball
C and R are, as always, thankful.
---
November 13- Stanford Gets First Win of the Season

Well, welcome back women's basketball fans, after a long hiatus, C and R are back! And so is Stanford! After a very short (one game) exhibition season, which resulted in a win over The SF Academy of Art (Hey don't make fun of artists who like sports, all of my degrees are in art!), the Stanford Women's Basketball team opened their season on the road vs. UC Davis.

Anyhoo, hats off to IUC Davis for providing a free live stream of the game, which started 40 minutes late. Only complaint is there was no sound, and the view never showed a scoreboard. Other than that, it was great to see the game.

Notable observations from a small, soundless, scoreless screen:

Junior guard Lili Thompson didn't start, although she was second highest scorer last year.

Starters were freshmen Marta Sniezek at point, Bri Roberson the off guard, Karlie Samuelson (KSam), Kaylee Johnson, who lead the team in rebounds last year, and Erica McCall as the bigs.

Stanford looked faster than UC Davis and loved the quick step of guards and forwards as soon as they touched the ball, all ready to explode to the basket, instead of being flat footed.

Really love this Marta kid, tough strong, and for a point guard, decisive. Not afraid to drive it to the hoop, and on one play, took the pass off of a defensive rebound and went all the way to the hoop. Hey, if the defense doesn't stop you…. Very crisp passer, too.

Have to change our drinking game from "when an Ogwumike loses a contact" to "when a Stanford player needs to tie a shoe." Seriously, ever hear of double or triple knots? One of my son's soccer coaches used duct tape on wayward laces.

Love the full court press. Except when it didn't work.

Did not love the post player giving the guard that high screen at the three point line, as last year. They are so out of position if the guard does drive by and lays it up. Plus the opposing player can see it coming a mile away.

The game had four quarters instead of two halves, per the new rules. There are a whole bunch more new rules, but we can't remember them and are too lazy to look them up.

So many shots rimmed out for Stanford. Someone should check those rims at UC Davis.  C and R thought they were watching a crooked carnival game.

We have no help on "D" when we play player to player (formerly man to man), which we did all night. If UC Davis blew by their defender, they blew by their defender and had a clear path to the basket.

Even though she is now a sophomore, still love this Brittany McPhee kid!

UC Davis can miss shots, too. Both teams were hovering around 30% shooting from the floor at the half way point. Stanford had a slight lead, 29-24.

Sometimes we make one too many passes. Sometimes you need to be a ball hog and just take it to the rack.

Loved the third quarter surge; five minutes into the third quarter Stanford had 17 (and went 3-4 from three-point land) and UC Davis just two points. (Head coach Tara VanDerveer is the master of half time adjustments). Remember the first half where they shoot 30% and scored 29 points? They shot 55% in the third and scored 31 points.

Really, really love the Aussie Alanna Smith. She sure knows how to move to the basket and score!

Loved Kaylee Johnson's blocks (however she needs to score more, a problem last year, too). She had zero points.

Loved seeing my cup o' coffee (freshie Shannon Coffee). Full disclosure, although I have never met her, she grew up in the same home town as C, which is Dayton Ohio, (except different eras) and us Ohioans got to stick together. I bet she knows about Mikela Ruef's beaver call. She scored five points in her debut.

Loved Erica McCall's double double, and four players being in double figures for points. Erica had 10, Bri 15, Alanna 13 and Lili 10.

Final score 74-45

Great win, one more road game at Gonzaga, and then we get to see Stanford in person!
---
Back to the Stanford Women's Basketball Blog

or check out the other months of C and R