Feb 4: Tara VanDerveer Celebrates Special Win #1,000

We get so used to seeing wins out of the Stanford Women's Basketball team, with Tara VanDerveer at the helm. So used to catching victory balls on the home court at Maples Pavilion after those wins. So used to cheering in the face of opposition the times we venture off campus to support the team in a road game. These wins always send C and R home with a smile. However Stanford's win over USC on Feb. 3 was truly special.

We got to celebrate career win #1,000 for Tara VanDerveer and look back on her legendary career. Tara, in her typical understated-ness said this was pretty much like any game, and would be on to victory #1,001 shortly after. However, it was great to see the joy her players had for being part of this historic run and this particular victory.

There was Erica "Bird" McCall, all fist-pumping and fired up for hitting a three at the half time buzzer to put the team up 31-22, and running C's streak of free pizzas (She had guessed 30 points at the half). There was the pure unadulterated glee as Erica and Karlie Samuelson caught Tara unaware as they held a huge orange Gatorade Bucket over Tara's head, her body language prepared to be doused, only to find out it contained confetti. And the pride the three seniors had, Erica, Karlie and Bri Roberson, presenting Tara with a commemorative plaque with a Stanford jersey with "Vanderveer" on the back and the number 1,000.

Stanford Coach Tara VanDerveer celebrates win #1,000.
Photo courtesy of Stanford WBB.
Final score, not that anyone cares, was 58-42, a low scoring affair for Stanford. Wonder if emotions had anything to do with it? The game was close until the third when Karlie Samuelson hit three 3-pointers in quick succession and added a jumper at the buzzer to help Stanford pull away. She would finish with a game-high 21 points. Erica added 18, and Brittany McPhee chipped in ten.
But when the final seconds ticked down, and Maples began chanting and cheering, the final score did not matter. More confetti rained down from the ceiling, Pac-12 commissioner Larry Scott gave Tara a commutative trophy. Former player and now much-in-demand TV analyst Ros Gold-Onwude (we said hi, she knew who we were!) summed up the night for the crowd, and finally the microphone was given to the coach herself.
Believe it or not, she, the master of dead-panned humor said she was speechless! Then in traditional Tara fashion thanked many and deflected glory. For Tara, echoed the many articles written before the game, the game is not about the victories but about the relationships. A wonderful video tribute played with so many people stating what Tara means to her, including many Stanford fan favorites of ex-players.
The night was attended by some of those players, such as Jennifer Azzi, who said more than a coach, Tara has been her friend for life. The game just happened to coincided with National Girls and Women in Sports Day, and in the lobby before the game, C and R walked by Simone Manuel and Katie Ledecky giving autographs and in Simone's case, wearing flippers on dry land to race a young fan in a swim rely. At half time, Stanford introduced the National Champs in Women's Volleyball, and just "a few" of Stanford's Olympians, including Ledecky and Manuel. You know, every day people you might see in class if you went to Stanford.
So yes, it was great to make a big deal out of one victory for Tara VanDerveer, lest we forget every victory is special in its own way. Bay Area sports fan, we are lucky to have such a person who strives for success, yet puts more emphasis on watching and helping her players grow.
---
Jan 29: Stanford WBB knocks of Washington, half way through Pac-12 Play

Well, the days, and Stanford Women's Basketball games, fly by, with C and R barely having time to watch them, let alone blog about them, but a little more than half way through the Pac-12 regular season, and we MUST talk about this game that just transpired. (Yay, longwinded run on sentences are back, too, apparently).

Over 10,000 women's basketball fans, including Seattle quarterback Russell Wilson in support of his lil sis Anna, who plays for Stanford, and Seattle Storm coach Jenny Boucek, scouting Pac-12 talent, came to see Stanford play Washington. And Boucek got her an eyeful of some Kelsey Plum.

Side story: Jenny Boucek was at Maples a few weeks back scouting Erica McCall and Oregon State's Sidney Weiss, and C and R spotted her all alone in the front row under OSU's basket. So, C and R, especially C, never hesitant to make a fool of herself, sauntered over there and starting chatting her up. She was very gracious and obviously is a huge student and fan of women's basketball.

So the joint was rocking, Washington ranked higher than Stanford, and were coming off an insane night of 18 made threes. They quickly took it to Stanford. Kelsey Plum was 5-5 from the three-point line in the first half and had 24 points.  And this was with Stanford guarding her heavily. Although Washington executed the pick and roll pretty well.

Meanwhile, Stanford, was 1-11 from the three-point line, the lone basket by center Nadia Fingall! Not a good time to have the three go south on you. Stanford found themselves down by 18 halfway through the second quarter. Then Stanford's Erica McCall discovered she could move against the larger Wash center, Chantel Osahor and Erica scored a few in the post. Stanford was lucky to go in to the locker room at half time "only" down by 12.

But you know Stanford's hall of Fame coach is a master of the half time adjustment. Number one priority was to limit Kelsey Plum. And Bri Roberson, quiet, unassuming Bri Roberson, who already lost her headband early in the first quarter, as C and R track that sort of thing in a private-joke drinking-game sort of way, akin to an Ogwumike losing a contact, went to work.

She scored all 14 of her points in the second, including three three-pointers that were always timely. Roberson also scored the first five points of the fourth quarter to pull Stanford even at 55-55 with nine minutes left. Brittany McPhee added 17, and her ability to score off the dribble and penetrate is so desperately needed. Both these players chipped away at the lead until they went ahead by one, to trade the lead four more times with Washington in the closing minutes. Erica would end up with 16 and Karlie Samuelson joined them in double figures with 10, however, surprisingly did not hit a three.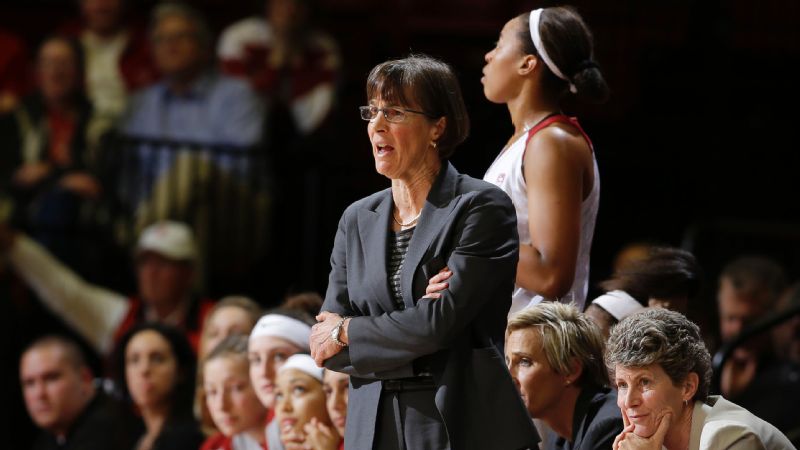 Stanford Coach Tara VanDerveer gets the most out of her players in win #999.
Photo courtesy of ESPN.
Did they stop Kelsey Plum? Well, she "only" scored 20 in the second half, and "only" hit two more three-pointers, so you can say yes. Both Plum and Erica were saddled with four fouls that limited their effectiveness in the third quarter. However Stanford had other players that stepped up and Washington did not in their stars' absences. Stanford outscored the Huskies 39-23 in the second half.
How insane was Kelsey's stats? She was a Curry-like 7-7 from the three-point line until a desperation heave missed with six seconds left in the fourth and the game tied. It was her only miss from behind the arc that night. She finished the game with 44 points before fouling out in the closing seconds. She scored 18 of Washington's 24 points in the second quarter. The senior (thank goodness) moved up three spots on the all-time scoring list (she now trails Brittney Griner by 145, and Jackie Stiles by 155. C and R suspect she will do that soon). However, she did not have a good supporting cast. The rest of Washington was a combined 6-37. For the game. The seven other players only contributed 24 points.
Stanford shot some FTs near the end to win 72-68 to make it look like a respectable win, however Stanford was lucky to win this thing. Missed free throws, missed threes, and just missed shots really hurt Stanford.
Well, a win is a win, and with that win, Stanford head coach Tara VanDerveer has a bunch of them, 999 to be exact. One more win and Tara will join legendary coach Pat Summit as the only two women's basketball coaches with 1,000. Be there Friday night versus USC to see history made!
---
Dec 24: Stanford Women's Basketball First Half Check In

Hidey ho, sports and Stanford fans. Apologies all around, C and R have been SO remiss in our blog writing. With the season practically half way over, and Pac-12 play just around the corner, we thought we would make an attempt.

First, let's back it up. C and R treated themselves to a great Thanksgiving Holiday and took themselves down to warm sunny Cancun, Mexico to see Stanford play in the Cancun Challenge. We thought, sunny warm weather, on the ocean, all inclusive, all you can eat, and watching women's basketball games, how can we not go, plus we would be surrounded by ALL of our Stanford friends. Well, most of it came true. It was sunny warm, C went in the ocean every day, R did yoga on the beach, but not many Stanford fans came down.

So C was most excited about talking to Stanford player Shannon Coffee. Shannon went to high school in Dayton Ohio. C went to high school in Dayton Ohio. The only difference is C went to high school 30 years before Shannon.

So when C and R went to the first game against Northeastern (in Boston, we had to ask, too), we looked for all the fans. We saw two distinct groups. So shout out to the Kaylee Johnson family and who else was there? The Coffee family! Oh joy! However, come to find out, the Coffees are from the affluent side of Dayton Ohio and Shannon went to the fancy high school and C lived in the unincorporated side of town and went to the "gritty" high school. C's high school didn't even have AP classes, so Stanford was never a possibility! But I digress.

So our small party of Stanford supporters sat in the stands and Stanford was winning handily against Northeastern. So C and R hit the all-inclusive, all you can eat, all free food bar. Suddenly Stanford was only up by 10. So C and R began chowing down on chicken wings and Stanford started to pull away. The nice thing about it is head coach Tara VanDerveer played al a lot more of her bench and C and R got to see a lot more of players we don't usually see, including the freshies. Final score 74-45. Box Score here.

The second game was against Wichita State, which we can't report on because we were out seeing one of the Seven Wonders of the World, Chichen Itza. A bus came and picked us up promptly at 8:40 AM. And five hours later, we still hadn't seen any Mayan Ruins. Most of the trip was designed to see how many American dollars they could get out of us. Finally in the sixth hour, after navigating a gantlet of t-shirt vendors and knick-knack providers (of which we did partake on the way out), we saw it, the famous El Castillo, Spanish for "the castle", also known as the Temple of Kukulcan, is a Mesoamerican step-pyramid that dominates the center of the Chichen Itza archaeological site in the Mexican state of Yucatán, sez Wikipedia. Two times a year, the sun would light up triangles on the stairs until they touched a large snake head. Incredible. How did they know how to do that?

But was most impressive was the "ball court," where special games were played four times a year on the solstice and equinox days. Two rings were embedded high in the stone walls, one on each side. Underneath each rings were raised platform, and then the rings were separated by a huge grass court, similar to a soccer field. Supposedly two teams would propel a ball in the grass court (debate if it was hiops and shoulders only, not feet or hands) up to their captain on the raised platform and the captain would try to get the ball through the hoop. It was so hard to score a goal, so the game would end when the first goal was scored. Then, and this is also much debated, the winning captain had the honor of being scarified to the gods and so was beheaded. Or the losing captain, which even you believe. Well, someone was beheaded, that is for sure. Carved in the stone was someone getting beheaded by another guy with a machete, so someone was getting beheaded because of this game. Have we progressed much in our sports culture?

So long story short, Stanford beat up Wichita State, C and R were amazed by the ancient sites, and everyone got to play. Final score 87-39, box score.

The third game was the game C and R really wanted to see, Purdue v Stanford. Purdue played a zone offense, probably having watched a lot of game film on Stanford. Stanford's offense is not very well designed for zone. Stanford offense is about setting screens and quick ball movement to get players an open look, especially threes. Throwing the ball to the middle is definitely a second priority. So Stanford had a hard time scoring. All we remember, in between our trip to the all you can eat buffet, was thank goodness for Brittany McPhee. She was only of the few who could drive in create her own shot. We also saw flashes of that from freshie DJ Carrington. Purdue lead most of the game, until Stanford finally caught on that driving in resulted in points or fouls. Once they got some foul calls in the closing minutes, it was all over. Final score 78-69, with the game being MUCH closer than the score indicates. Box score.

One thing that was really cool was meeting and talking to all the players not on Stanford teams. We met a local Palo Alto girl who went all the way to Boston to school. We met an Idaho State player's aunt and grandmother, and although the player had suffered TWO ACL injuries, she was getting a bachelor's and two masters degrees for free. We tried to trash talk UCLA, who was in the other division, but they were all so nice it was hard. Really enjoyed talking to an UCLA assistant coach and hearing how her role is different than a head coach's role (She can be more buddy-buddy where the head coach has to lay down the law).

However after the Stanford game, Purdue was SO dejected. We told them to keep their head up, however, they were in control of that game (and had over 200 fans cheering for them), so to lose it in the final minutes hit especially hard. They truly believed they would win. We don't normally get to see the other team after a Stanford loss.

After five days of being waited on hand and foot and stuffing ourselves to the gills, plus time in the ocean every day to see real gills, it was hard coming back to the chilly Bay Area. But jobs and mortgages await.

Stanford also rolled on, having games to play. They traveled to Bakersfield to play against Stanford player Erica McCall's dad Greg. He coaches Cal State Bakersfield. Erica was extra-special hyped up and scored 18 points and pulled down 12 rebounds and Stanford won handily, 77-59. Highlights here.

The next game was UC Davis at home and Stanford won 68-42. Box score.

Then came Tennessee, and although Stanford jumped out to a 15-4 lead, which we did not see because the SEC channel was still showing a men's game, thank you very much, Stanford stopped scoring (read what we said about Purdue, Tenn went to different zone looks), and they lost 51-59. Box score.

They continued their trip to the East Coast with a win over George Washington, however Stanford again built a big lead and watched it slip away when GW clamped down in a zone and the threes weren't following. However they came back late in the 4 th on a 13-2 run. Don't like seeing them squander big leads. Oh, Erica McCall joined the 1,000-point club. Final score 71-52. Box score.

Still, despite the loss to Tenn, some good things in the first half of the season. The emergence of Bri Roberson at guard. Although she is not a prolific scorer, her quick hands on D help her stay in the lineup. The ability of Brittany McPhee to create her own shot, as we mentioned. Didn't see much of it last year. The more confident Erica McCall on scoring down low and rebounding. There is a glint in her eye we have not seen before. And of course, love the pure post play of freshie Nadia Fingall. She makes her presence known and will be good in the post in the years to come.

Next game is against Yale, battle of the brains, then starts Pac-12 play, and believe you me, C and R, this is not going to be a cake walk like past years. Just ask undefeated Cal, Washington's Kelsey Plum, who just broke Chiney Ogwumike's Pac-12 scoring record and Oregon State's Sydney Wiese, who just broke Candice Wiggins' Pac-12 three-point shooting record (dang, what's up with Stanford records falling?). The Pac-12 is a good league this year! And is anyone's for the grabbing. Stanford will have their work cut out for them.
---
Whew, you made it to the bottom of C and R's Stanford Women's Basketball Blog!

Back to the Top of the Blog


or check out the other months of C and R