Hey, We found Stanford Women's Basketball Headlines. Enjoy!
Now on to the Stanford Women's Basketball Blog!


March 2nd- Stanford Shines in Senior Night

Senior Night for the Stanford Women's Basketball team is always emotional. Find out what we are really talking about below the C and R's StanfordWBBBlog Twitter Account.
---
---
March 2nd- Stanford Shines in Senior Night

Senior Night for the Stanford Women's Basketball team is always emotional. Some get overwhelmed emotionally. Some cry. Some feed off the energy and family in attendance and set a new career high during the game. That someone is Chiney Ogwumike. 

Stanford Seniors! Sara James, Mikaela Ruef, Toni Kokenis, Chiney Ogwumike (Photo courtesy of Pac-12 Networks )
A few years ago, Stanford broke with tradition of having the senior ceremony right before the actual game, due to several players being overcome with emotion and then not playing very good basketball. So after Stanford beat Washington by a score of 84 to 64 and officially won the Pac-12 regular season title, Stanford fans stayed behind and the players and families were introduced, speeches were made, and yes, tears were shed. But not from one Chiney Ogwumike. She said she wouldn't cry, she is too happy, too happy for her four years at Stanford and all the rich and varied experiences it has brought her. 
Chiney was honored along with Sara James (must be called Sejjie we learned), Mikaela Ruef, who is a fifth year senior and went through this last year as she was not sure if she was coming back, and Toni Kokenis. Toni retired last year after repeated concussions, yet choose to stay with the team and attend every practice and game even though she could no longer participate. Of course someone asked if she missed the game. The emotional answer was yes. 
A big shout out to Mama Ogwumike for an eloquent speech on how thankful she has been for the Stanford family and how they had embraced her daughters. Yes, you can't talk about Chiney Ogwumike's Stanford career without mentioning older sister Nneka Ogwumike, who had a stellar Stanford collegiate career and was the number one draft pick in the WNBA and went on to win rookie of the year (and that last year with Nneka as a senior and Chiney as a sophomore was a thing of remarkable beauty to watch unfold). But Mrs. Ogwumike said when it is all said and done, it is the relationships that have been built that will be remembered and treasured forever. Dad Peter was reluctantly prodded into speaking too, and his booming voice showed where Chiney gets her heart and passion for playing. Don't you want to be adopted by the Ogwumikes?
So in the game, as we mentioned, Chiney scored a career high and Stanford Coach Tara VanDerveer let her, meaning she kept her in long enough to get number 37, a point over her old record before Tara took her out for a rousing standing ovation with two minutes left. And truthfully, Stanford needed her points AND her defense. Washington State was not going away, despite being down all game. They have two really good guards in Lia and Tia who did not give up, and really took it to the basket. I am sure WSU and the entire Pac-12 nation is glad Chiney is a senior. 
More game facts:
Senior forward Chiney Ogwumike scored a career-high 37 points with 13 rebounds for her 13th 30-point game and 22nd double-double of the season. She scored 21 of those points in the first half. Chiney Ogwumike's 37 points increased her career scoring total to 2,580, bringing her to 50 points away from breaking Candice Wiggins' Pac-12 record of 2,629 career points. Chiney already has the Pac-12 career rebounding record, so every rebound builds the record. She currently stands at 1,483. 
Junior point guard Amber Orrange scored 20 points to go with eight rebounds and four assists. She came just two points and one rebound shy of her respective career highs. 
Junior forward Bonnie Samuelson scored 10 points for her fourth double-digit scoring performance over the past five games. She hit two 3-pointers in the game. 
Speedy Freshie Briana Roberson continues her energetic play, scoring eight, which I believe ties her career high. 
One disturbing trend, Stanford was 4-23 for 3-pointers. When teams key on inside player Chiney Ogwumike, Stanford must make outside shots to open things up and have a more balanced scoring attack. This will be imperative in the NCAA tournament, especially if Stanford wants to come back to Maples for the Sweet Sixteen and Elite Eight. 
Stanford is the 14-time Pac-12 champion and the No. 1 seed at the Pac-12 Tournament for the 13th time this year. They get a bye in Seattle and will start in the quarterfinals, facing the winner of Thursday night's UCLA-Colorado first-round contest. 
---
February 27th- Stanford Whips Washington

This was supposed to be the grudge match. The Stanford Women's Basketball Team needed to avenge its only Pac-12 loss vs. Washington, and since Washington was coming to Stanford's house, no way were they going to let a loss happen again. 

One thing you will get after beating a Tara VanDerveer team: the opposite game. Last game, against Washington's zone, Stanford was nine for 41 on threes or made just 21% of them. This game Washington stayed in the zone and Stanford shot 37% from behind the line, going nine for 24. Last game most of the threes came in the final two minutes when Stanford was furiously attempting a comeback that would end short. This game most of the threes came during runs of 11-0 during the first half and a on a 16-4 run to open the second and Stanford built a 30 point lead and never looked back. 

Last game Stanford played uninspired defense that let probable Pac-12 Freshmen of the Year Kelsey Plum get 23 points. This game, well Plum got 21 but Stanford held her in check the first half and frustrated her all night. Stanford also held Washington scoreless for over six minutes in the first.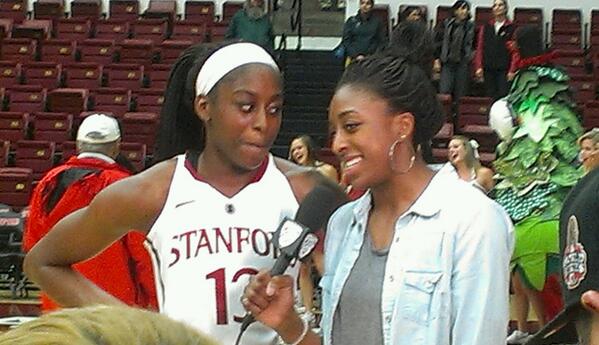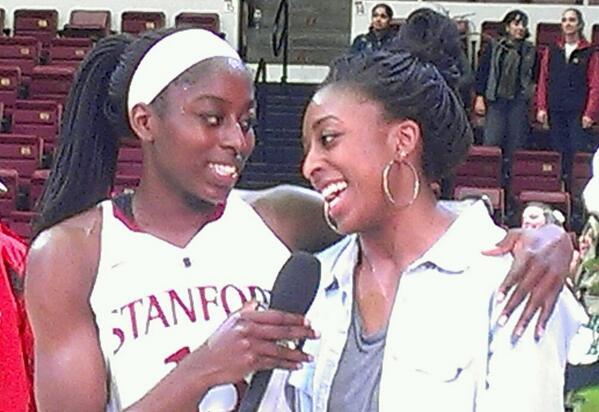 Chiney Ogwumike gets interviewed by sister Nneka, then turns the tables (photos courtesy of C and R's smart phones!)

But one thing is a constant in a Stanford Women's Basketball game this year and that is the play of senior Chiney Ogwumike, who knows her time is finite. Plus older sis ands WNBA star Nneka Ogwumike was in the house and we know how inspired Chiney can get when Nneka is on or near the court to her. 

Last game Chiney had trouble scoring against Washington's zone, and true to form, they doubled her most of the night. Chiney still scored 32 points and grabbed 11 rebounds for her 21st double-double of the season. She scored 21 points in the first half, leading Stanford to a 45-32 lead at half time. Chiney was four points shy of tying her career high. She also increased her career scoring total to 2,543, leaving her 87 shy of breaking former Stanford star Candice Wiggins' Pac-12 record. 

Bonnie Samuelson added 14 points for Stanford, making four of seven from behind the three-point line. Freshie Lili Thompson had 11 while shooting three of six from behind the line. Fellow guard Amber Orrange added 10 points and four assists. Mikaela Ruef, who grabbed 22 rebounds last game, had a game-high 14 rebounds in this one. 

Last game the score was 87-82, with Stanford on the losing end. This game, the score was 83-60. There was no way Stanford was going to let Washington score over 80 points again. 

Nneka Ogwumike, who will be commentating for the Pac-12 Networks at the Pac-12 Tournament in Seattle, interviewed her sis after the game.

Last regular season game at Maples Saturday, and senior night for Chiney Ogwumike Sara James, Mikalea Ruef (who went through it last year) and Toni Kokenis, a former All-Pac-12 guard whose career ended as a result of concussions last season. Hope to see you there. 
---
February 23rd- Stanford Starts Slow, Beats UCLA

The Stanford Women's Basketball Team has a new norm in Pac-12 play. Start slow, let the other team build a lead, take the lead mostly on the back of Chiney Ogwumike, and pull out a win. 

The latest victim was UCLA, which Stanford beat65-56 at Pauley Pavilion. Can you say defensive struggle? Or sloppy play?  UCLA had 18 turnovers and Stanford had 16. 

This game Stanford head coach Tara VanDerveer shook things up a little regarding the starting line up. Bonnie Samuelson and Briana Roberson made their fist collegiate start. Erica McCall also made her second start of the season. Briana started out well with a three and a drive to the basket. She committed a charge and got subbed out and never really was able to do much afterward. 

And when Stanford fell slightly behind, some of the regulars such as Mikeala Ruef and Taylor Greenfield came in. It was also good to see regular starting guard Lili Thompson come into the game after missing last game with an ankle injury. 

Chiney Ogwumike, right, drives past UCLA (Ringo H.W. Chiu - AP Photo)

UCLA made all four of their three point attempts and Stanford fell behind early. Stanford's inside player Chiney Ogwumike was held without a basket for the first ten minutes. But her first basket was a beauty; a steal and a break away lay up. Finally, with four and a half minutes left, Bombing Bonnie tied the game with a three, making the score 23 all. 

Although Chieny was held to just nine points in the first half, she did score the last six points in the half and Stanford found itself with a four-point lead, 29-25, which they would not relinquish. 

The second half opened with the usual starters. That must have felt good because with 14 minutes left in the half and UCLA within two (40-38), Stanford went on a 16-4 run over the next five minutes to build their lead to 14. This was largely due to Chiney Ogwumike and her absolute desire to get to the basket when she catches the ball in the low post.

Chiney ended up with 26 points and 15 rebounds, posted her 20th double-double and 24th 20-point game of the season. She also set a season high with five blocks, just one shy of her career best, and matched her season best with four steals. 

BTW, Chiney's 26 points increased her career scoring total to 2,511, passing older sister Nneka (2,491) for second place on Stanford's all-time scoring list. Nneka is a good big sis, she probably won't mind. Chiney is also now 119 points away from breaking Candice Wiggins' Pac-12 record of 2,629 career points (and she might mind! LOL). (Does the Pac-12 tourney count?) 

Mikaela Ruef scored seven and grabbed 11 boards marking her 14th game this year with at least 10 rebounds. Mikaela's 11 rebounds along with Chiney's 15 made for the 10th game this season in which each of them pulled down double-digits in boards. 

Amber Orrange scored 13 points and had two steals and some speedy lay ups. Bonnie added seven and made one three in her first start. 

With this win, Stanford is the outright Pac-12 regular-season champions, and have a first round bye in the Pac-12 tournament. 

Just two more games at home. And Thursdays is a grudge match against Washington! 
---
Whew, you made it to the bottom of C and R's Stanford Women's Basketball Blog!

Back to the Top of the Blog


or check out the other months of C and R