Hey, We found Stanford Women's Basketball Headlines. Enjoy!
Now on to the Stanford Women's Basketball Blog!


April 6th- Stanford Gets the Same Results Against UConn

They say the definition of insanity is doing the same thing over and over again and expecting different results. Find out what we are really talking about below the C and R's StanfordWBBBlog Twitter Account.
---
---
April 6th- Stanford Gets the Same Results Against UConn

They say the definition of insanity is doing the same thing over and over again and expecting different results. With Stanford going to the Final Four six times in seven years and coming up empty handed, you could call head coach Tara Vanderveer Insane… or insane like a fox. (I don't know, I am mixing my metaphors.) So when Stanford played #1 UConn in November and "only" lost by 19, Tara also expected a different result when she met them again in the Final Four in April. It was the same 19-point margin of victory. Just insane. 

Not very many people thought Stanford would even make it to the Final Four this year. They lost in the Sweet Sixteen last year with much of the same cast, and didn't even get the number one seed in their region. Just getting to the Final Four this year, with the parties, the red carpets, the autograph signing sessions and the line dancing, was a huge victory for Stanford. Too bad they had to meet #1 UConn in the Final Four. 

Yes, yes Tara was playing to win. She is the master of scouting other teams and finding an exploiting their weaknesses, and figuring out who is the worst shooter and then not guard her. Turns out, UConn doesn't have many weaknesses to exploit. 

Chiney Ogwumike dives for a loose ball over Stephaine Dolson. (Photo by Andy Lyons/Getty Images)
And hats off to UConn. Their defense won this game for them. They started out cold, offensively. Stanford had the lead for 12 and a half minutes in the first half, the longest time any opponent had the lead all year against UConn. But UConn's defense took away All-Everything Chiney Ogwumike. Stanford thought they had an answer for that, in their outside shooting. Turns out UConn knows how to scout, too. UConn took away Stanford's three ball. They guarded the perimeter so Stanford three-point specialist Bonnie Samuelson, with the quick release, could not get a good shot off. Coupled with the fact Stanford cold not penetrate on the drive and it was game over. 
Right around the last few minutes if the first half, UConn went on a 12-0 run and took the lead back for good. At the half it was 24-28. The good news was UConn's shooter, Kaleena Mosqueda-Lewis had zero points at the half. The bad news is Chiney Ogwumike only had four. 
UConn would go on a 20-5 run spanning both halves. UConn came out in the second and before you could blink it Huskies led 44-27. The lone three points in that period was inside player Chiney Ogwumike hitting a outside three. And that is not a good game plan. UConn took away what Chiney does best, inside points and rebounds. And Stanford's outside shooters went 6-25 from three-point territory. Add 13 Stanford turnovers and it was not a pretty game for Stanford. 
Chiney did not try much inside in the first half, and consequently, Stanford did not shoot any free throws in the first. Stanford drove more in the second half and did pick up some fouls, but it was too little, too late. Kaleena Mosqueda-Lewis scored all of her 15 points in the second half. The truth of the matter was Stanford could not get stops and did not trade baskets. 
Although Chiney would score 15 points and 10 rebounds for her 27th double-double of the year, eight of those 15 points came after UConn had already established a solid double-digit lead. POY Breanna Stewart helped hold Stanford's All-American to just 5-of-12 shooting. 
More Box Score:
Amber Orrange had16 points to lead three Stanford players in double figures
Lili Thompson chipped in with 12 points for Stanford, although ten were in the first half. 
Still, congratulations to Stanford on a great, great season. So much effort and intensity and emotion. And no, C and R don't think Tara VanDerveer is insane. We think she is genius. To go to six Final Fours in seven years means you are consistently doing something right. 
---
April 1st- Stanford Beats North Carolina, Back in the Final Four

There is a cheer the Stanford band does. Two X plus 4, where X is your score. It is a brainiac cheer. It would be chanted, for example, when one team has 9 points and the other team has 22 points. Two times 9 is 18, add four and you get 22. It is pointing out that the team with 22 has more than doubled your score, and it rhymes. The band has used it against many, many Stanford opponents over the years. C and R have never, ever seen it used against Stanford. Cue a dark and stormy night at Maples.

The Stanford Women's Basketball Team was playing North Carolina in the Elite Eight with the winner going on to the Final Four. As C and R mentioned, it was raining outside, and raining threes inside Maples. Just it was North Carolina making it rain. They popped 5 of 6 threes early in the first half, Stanford had four straight turnovers, and before you could dry off, it was 9 to 22 with 12:46 left in the first half (Two X plus four indeed!). 

To Stanford's credit, they did not panic. UNC did their job and was taking All-Everything Chiney Ogwumike out of the game. They were double and triple teaming her in the paint and not letting her get an offensive rebound. She was not touching the ball. 

Stanford responded by hitting some threes of their own. By the end of the half, both teams combined for 15 made threes. Seven for UNC, eight for Stanford. Stanford was lucky to be down only 30-36. And they were hoping and praying UNC could not keep making those threes, or else head coach Tara Vanderveer told her team to guard the 3-point line. Either way, UNC only made two more 3-pointers in the second half. 

Give an assist to older sister Nneka Ogwumike giving Chiney a pep talk at the half, too. Also keeping Stanford in the game was Mikaela Ruef, the fifth year senior who did not want to remember last year's loss in the Sweet Sixteen. She hit three 3-pointers, a career high. She has never hit more than one in a game before. Before this game, her career total for threes was seven for all five years. She scored a career high 17 and grabbed nine rebounds. 

With Stanford hitting threes, UNC came out on the perimeter and left Chiney Ogwumike alone one-on-one in the paint. And what, Stanford fans, do C and R say when they leave Chiney alone one-on-one in the paint? Chin-nay all day. That was the turning point. Chiney Ogwumike scored 16 of her game-high 20 points in the second half, and added 10 rebounds for her 26th double-double of the year. Mikaela Ruef does the things not noticed in the box score. Someone must have noticed, though because she was awarded the regional MVP. A shocker it was not Chiney, but we are sure Chiney does not mind Ruefie picking up some hardware.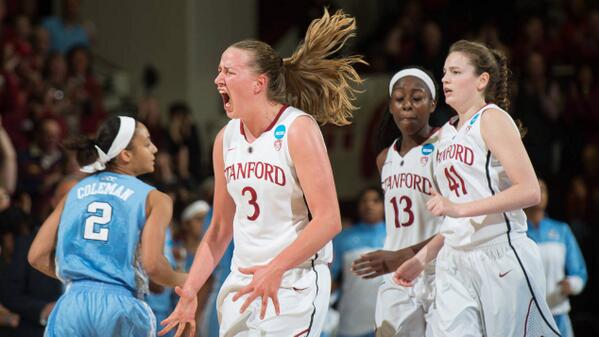 Mikaela Ruef, regional MVP
(Photo: Don Feria/isiphotos.com )
Stanford had five players in double figures, and when has that happened? Never? Amber Orrange scored 12 of her 14 points in the first half to help Stanford stay close. Bonnie Samuelson made three 3-pointers for 13 points off the bench. Freshman  Lili Thompson, who doesn't play like a freshman, scored ten points. 
Lili only scored ten because she had her hands full guarding UNC's shining freshmen Diamond Deshields (get it, shining). Diamond was limited to 13 points (she averages about 19) and only made one three pointer. To be fair, she was injured with a sprained ankle, knee and wrist and you could tell she was bothered. She said her ankle was hurting in warm-ups but like a warrior, did not want to miss this game. She has a very accurate pull up jumper, but clearly the ankle was affecting her. We have not seen the last of that Freshman. 
The lead see-sawed back and forth and it was a one-point game with 1:48 left and a three-point lead for Stanford with 22 seconds left when Bonnie (Miss Automatic) was fouled. She made both of them and Chiney added two free throws and Amber a lay up and Stanford would hold on to win 74-65. The score was not indicative of how close this game was. 
Don't know if we have ever seen Stanford come back from so far down. All those Pac-12 blowouts didn't help them prepare. But we have Chiney Ogwumike (and Mikalea Ruef), and a supporting cast that did their role jobs well. Stanford going to the Final Four. Let's just enjoy this before we look to see whom Stanford is playing (Hint: It's UConn). 
---
March 30th- Stanford in the Elite Eight

By now, everyone has heard the story of the Penn state coaches hanging out with Stanford head coach Tara VanDerveer in the offseason to pick her brain on the triangle offense. Guess Tara forgot to show them the back door option. 

Stanford played their best ball in a long, long time. Perhaps the long season wore on them, but the last quarter of the Pac-12 season was a little lackluster. Not today. And not when playing in Maples. 

Penn State and the Stanford Women's Basketball team were playing in the Sweet Sixteen, held on Stanford's home court. Much has been written about having neutral sites, but the truth is fans don't come out if their home team is not playing, the site loses a lot of money, and a lot of empty seats happen. So while this is an inelegant solution, the powers that be are still scratching their heads on how to make this better. 

Penn State came out powerful and athletic, and kept it close for about half of the first half. Then Stanford got hot, All-Everything Chiney Ogwumike got going, and Stanford played shutdown defense. Stanford outscored Penn State 25-7 to end the half and held Penn State without a field goal for nearly six and a half minutes.

Bonnie Samuelson, Mikaela Ruef and Lili Thompson play good D on Lucas (Photo Courtesy of Kelley L Cox )

Stanford's Lili Thompson got the assignment to guard Penn State's great scorer, Maggie Lucus. She averages about 21 points a game. Lili held her to 6 points in the fist half. And for the game? Six points. That's right they shut her down in the second half. Lucas was scoreless. Tied her career low, too. She was 3-for-14 from the floor, including 0-for-5 on 3-pointers. Her last points were nine and a half minutes left in the first. Wowsa! 

Penn State set screens, and even double screens, to try to free up their outside shooter Lucas, but nobody prepares for a game like Tara Vanderveer. Stanford knew the screens were coming and either got over them or switched personal on her so she never got an open look. 

Shout out to Mikeala Ruef. Ruefie helped on a lot of those switches on Lucas and played intense defense. She also contributed 11 points, 13 rebounds, five assists and two steals. She was one of two Stanford players that got a double-double. The other was that beast Chiney Ogwumike. She had 29 points and 15 rebounds. That marked her 25th double-double of the season, and 83 for her career. Double Wowsa! Amber Orrrrange was second in scoring for Stanford with 18 points.  Lili Thompson and Mikaela Ruef both finished the game with 11 points. That's four, count-em, four in double figures. Stanford will need that kind of effort from everyone from now on. 

Shout out to former Stanford alums Nneka Ogwumike, Jayne Appel, Kayla Pedersen, Lindy Larocque and Sarah Boothe in the house. Noticed Toni Kokenis was sitting in the stands with them. Wonder if it was a NCAA rule she couldn't be on the bench? 

Come back to Maples Tuesday night at 6PM Stanford time when they take on North Carolina (Oh yeah, number one seed South Carolina didn't even make it to the elite eight, go figure). 
---
Whew, you made it to the bottom of C and R's Stanford Women's Basketball Blog!

Back to the Top of the Blog


or check out the other months of C and R