Dec 24: Stanford Women's Basketball First Half Check In

Hidey ho, sports and Stanford fans. Apologies all around, C and R have been SO remiss in our blog writing. With the season practically half way over, and Pac-12 play just around the corner, we thought we would make an attempt.

First, let's back it up. C and R treated themselves to a great Thanksgiving Holiday and took themselves down to warm sunny Cancun, Mexico to see Stanford play in the Cancun Challenge. We thought, sunny warm weather, on the ocean, all inclusive, all you can eat, and watching women's basketball games, how can we not go, plus we would be surrounded by ALL of our Stanford friends. Well, most of it came true. It was sunny warm, C went in the ocean every day, R did yoga on the beach, but not many Stanford fans came down.

So C was most excited about talking to Stanford player Shannon Coffee. Shannon went to high school in Dayton Ohio. C went to high school in Dayton Ohio. The only difference is C went to high school 30 years before Shannon.

So when C and R went to the first game against Northeastern (in Boston, we had to ask, too), we looked for all the fans. We saw two distinct groups. So shout out to the Kaylee Johnson family and who else was there? The Coffee family! Oh joy! However, come to find out, the Coffees are from the affluent side of Dayton Ohio and Shannon went to the fancy high school and C lived in the unincorporated side of town and went to the "gritty" high school. C's high school didn't even have AP classes, so Stanford was never a possibility! But I digress.

So our small party of Stanford supporters sat in the stands and Stanford was winning handily against Northeastern. So C and R hit the all-inclusive, all you can eat, all free food bar. Suddenly Stanford was only up by 10. So C and R began chowing down on chicken wings and Stanford started to pull away. The nice thing about it is head coach Tara VanDerveer played al a lot more of her bench and C and R got to see a lot more of players we don't usually see, including the freshies. Final score 74-45. Box Score here.

The second game was against Wichita State, which we can't report on because we were out seeing one of the Seven Wonders of the World, Chichen Itza. A bus came and picked us up promptly at 8:40 AM. And five hours later, we still hadn't seen any Mayan Ruins. Most of the trip was designed to see how many American dollars they could get out of us. Finally in the sixth hour, after navigating a gantlet of t-shirt vendors and knick-knack providers (of which we did partake on the way out), we saw it, the famous El Castillo, Spanish for "the castle", also known as the Temple of Kukulcan, is a Mesoamerican step-pyramid that dominates the center of the Chichen Itza archaeological site in the Mexican state of Yucatán, sez Wikipedia. Two times a year, the sun would light up triangles on the stairs until they touched a large snake head. Incredible. How did they know how to do that?

But was most impressive was the "ball court," where special games were played four times a year on the solstice and equinox days. Two rings were embedded high in the stone walls, one on each side. Underneath each rings were raised platform, and then the rings were separated by a huge grass court, similar to a soccer field. Supposedly two teams would propel a ball in the grass court (debate if it was hiops and shoulders only, not feet or hands) up to their captain on the raised platform and the captain would try to get the ball through the hoop. It was so hard to score a goal, so the game would end when the first goal was scored. Then, and this is also much debated, the winning captain had the honor of being scarified to the gods and so was beheaded. Or the losing captain, which even you believe. Well, someone was beheaded, that is for sure. Carved in the stone was someone getting beheaded by another guy with a machete, so someone was getting beheaded because of this game. Have we progressed much in our sports culture?

So long story short, Stanford beat up Wichita State, C and R were amazed by the ancient sites, and everyone got to play. Final score 87-39, box score.

The third game was the game C and R really wanted to see, Purdue v Stanford. Purdue played a zone offense, probably having watched a lot of game film on Stanford. Stanford's offense is not very well designed for zone. Stanford offense is about setting screens and quick ball movement to get players an open look, especially threes. Throwing the ball to the middle is definitely a second priority. So Stanford had a hard time scoring. All we remember, in between our trip to the all you can eat buffet, was thank goodness for Brittany McPhee. She was only of the few who could drive in create her own shot. We also saw flashes of that from freshie DJ Carrington. Purdue lead most of the game, until Stanford finally caught on that driving in resulted in points or fouls. Once they got some foul calls in the closing minutes, it was all over. Final score 78-69, with the game being MUCH closer than the score indicates. Box score.

One thing that was really cool was meeting and talking to all the players not on Stanford teams. We met a local Palo Alto girl who went all the way to Boston to school. We met an Idaho State player's aunt and grandmother, and although the player had suffered TWO ACL injuries, she was getting a bachelor's and two masters degrees for free. We tried to trash talk UCLA, who was in the other division, but they were all so nice it was hard. Really enjoyed talking to an UCLA assistant coach and hearing how her role is different than a head coach's role (She can be more buddy-buddy where the head coach has to lay down the law).

However after the Stanford game, Purdue was SO dejected. We told them to keep their head up, however, they were in control of that game (and had over 200 fans cheering for them), so to lose it in the final minutes hit especially hard. They truly believed they would win. We don't normally get to see the other team after a Stanford loss.

After five days of being waited on hand and foot and stuffing ourselves to the gills, plus time in the ocean every day to see real gills, it was hard coming back to the chilly Bay Area. But jobs and mortgages await.

Stanford also rolled on, having games to play. They traveled to Bakersfield to play against Stanford player Erica McCall's dad Greg. He coaches Cal State Bakersfield. Erica was extra-special hyped up and scored 18 points and pulled down 12 rebounds and Stanford won handily, 77-59. Highlights here.

The next game was UC Davis at home and Stanford won 68-42. Box score.

Then came Tennessee, and although Stanford jumped out to a 15-4 lead, which we did not see because the SEC channel was still showing a men's game, thank you very much, Stanford stopped scoring (read what we said about Purdue, Tenn went to different zone looks), and they lost 51-59. Box score.

They continued their trip to the East Coast with a win over George Washington, however Stanford again built a big lead and watched it slip away when GW clamped down in a zone and the threes weren't following. However they came back late in the 4 th on a 13-2 run. Don't like seeing them squander big leads. Oh, Erica McCall joined the 1,000-point club. Final score 71-52. Box score.

Still, despite the loss to Tenn, some good things in the first half of the season. The emergence of Bri Roberson at guard. Although she is not a prolific scorer, her quick hands on D help her stay in the lineup. The ability of Brittany McPhee to create her own shot, as we mentioned. Didn't see much of it last year. The more confident Erica McCall on scoring down low and rebounding. There is a glint in her eye we have not seen before. And of course, love the pure post play of freshie Nadia Fingall. She makes her presence known and will be good in the post in the years to come.

Next game is against Yale, battle of the brains, then starts Pac-12 play, and believe you me, C and R, this is not going to be a cake walk like past years. Just ask undefeated Cal, Washington's Kelsey Plum, who just broke Chiney Ogwumike's Pac-12 scoring record and Oregon State's Sydney Wiese, who just broke Candice Wiggins' Pac-12 three-point shooting record (dang, what's up with Stanford records falling?). The Pac-12 is a good league this year! And is anyone's for the grabbing. Stanford will have their work cut out for them.
---
Nov 20: Stanford Starts the Season 3-1

Women's Basketball is back, and even though UConn is supposed to have a "down year," they still remain queens of the hardwood. But what about the Stanford Women's Basketball team?

After a rousing exhibition win over UC San Diego (and Stanford's head coach Tara VanDerveer beating her sister Heidi at the helm for San Diego), the regular season started with a bang. Here are small synopses of the games:

Cal Poly
Playing at home at Maples Pavillion, Stanford handily beat Cal Poly 83-55. The nice thing about this win was we got to see a lot of the freshmen, and for the first time in a long time, we can say there is not a huge drop off when we go deep in the bench. Everybody scored, almost, Shannon Coffee being the lone active player with zero points, and freshie Anaa Wilson was injured and not suited up for the game. See all the points scored in the box score here:

Texas
This was a huge test, as then No. 11 Stanford beat No. 8 Texas 71-59. How did they do it? Stanford drove inside. The score was actually pretty even until midway through the third quarter. Stanford found their groove and drove to the basket, in particular Brittany McPhee and Erica McCall. Stanford also benefited from the very bad "hand check" rule, where if an opposing player puts her hand on the player with the ball, it gets whistled as a foul. Never mind that the hand does not push or shove or alter the dribbling player's trajectory at all. It is a bad rule, as bodies go flying on drives to the basket and on rebounds and nothing gets called, yet the refs have to whistle for the hand check. Once Stanford got their confidence in going inside, and Texas was on their heels, forget about it. Hats off to Brittany McPhee with a career-high 28 points, and Erica McCall with 17 points. Erica had six blocked shots, one off her career high. Box score here.

Texas highlights from Stanford Athletics::


Gonzaga
Remember how we said Stanford found their groove against Texas by driving inside? Well, they lost that groove, and that driving mindset, to unranked Gonzaga, losing 68-63. Stanford could not get the ball inside and was trailing most of the game. Their offense was very stagnant. When you work the ball on the perimeter, you better make some threes. Stanford was 3-18 from beyond the arc. Well, if the threes aren't falling, you better drive inside. And that's what Stanford didn't do for most of the game.

Finally, in the third quarter, Britany McPhee started to drive inside and Stanford was helped by a foul calls. Erica McCall hit some tough jumpers just outside the paint (she would end up with 17 points). Stannie took the lead with 2 minutes left in the third. Then they stopped going inside and Gonzaga got hot from behind the arc and took the lead back with 6 minutes in the 4th. Stanford had the ball and was trailing by 1 with 27 seconds and called a time out. What worked for Stanford the last few scoring plays? Brittany McPhee going left and driving to the basket. What did Stanford do for a must get basket? Britany McPhee driving left to the basket (she would score 22 total points). How many Gonzaga defenders beat her to the spot? Three, with a Gonzaga player named Tinkle blocking her shot (more on Tinkle below).

Wasn't Britany's fault, when you are one-dimensional, the other team can predict. Still, Stanford had a shot with 14 seconds and down by three. Not sure what play Tara drew up in the time out, but Alana Smith inbounded the ball and threw a rainbow across the key to three-point specialist Karlie Samuelson, and the high, arching pass was easily intercepted by Gonzaga.

Let this loss be an eye opener to diversify their scoring options. Know what else drove a dagger in Stanford's heart? A Tinkle. Former Stanford Alum Joselyn Tinkle's little sister Elle plays for Gonzaga and she scored 18 points and added three blocked shots (including the last one on Brittany). She was especially good in the fourth. Jill Barta, the Zags tall athletic center scored 26. Laura Stockton, daughter of NBA great John Stockton, played guard for Gonzaga and contributed 12 points and 4 assists. Full box score.

CSUN
After a bad loss to an unranked team, Cal State Northridge was just want the doctor ordered. And you can bet Tara had the team work on getting the ball inside, and drives to the basket. Erica McCall scored 17 points, Brittany McPhee and freshie Nadia Fingall, benefiting from extended minutes also had 14 and Stanford beat CSUN 88-54. In fact, Tara gave extended minutes to everyone active, and 11 of 12 players scored and grabbed rebounds for Stanford. Passing was also crisp, and Stanford had 19 assists.

What's next? Stanford will travel to the Cancun Challenge for Thanksgiving, and will take on Northeastern (Nov. 24), Wichita State (Nov. 25) and Purdue (Nov. 26). Guess who is following? C and R will be live tweeting from games…except if we book a snorkeling or boogie boarding excursion…or I can't figure out how to do wifi in Mexico. Look for us over your Thanksgiving!!
---
Oct 3: Women's Basketball is Back!

The Stanford Women's Basketball team had their first practice this week and games are right around the corner. Always fun to get a sneak peak at the freshmen, yet we are missing some familiar faces, too. Senior guard Lili Thompson opted out of playing, although she is still at Stanford and is on track to graduate with her class. Kailee Johnson will forego her senior season, graduate two quarters early and pursue a career in real estate investment. Gotta strike while the market is hot.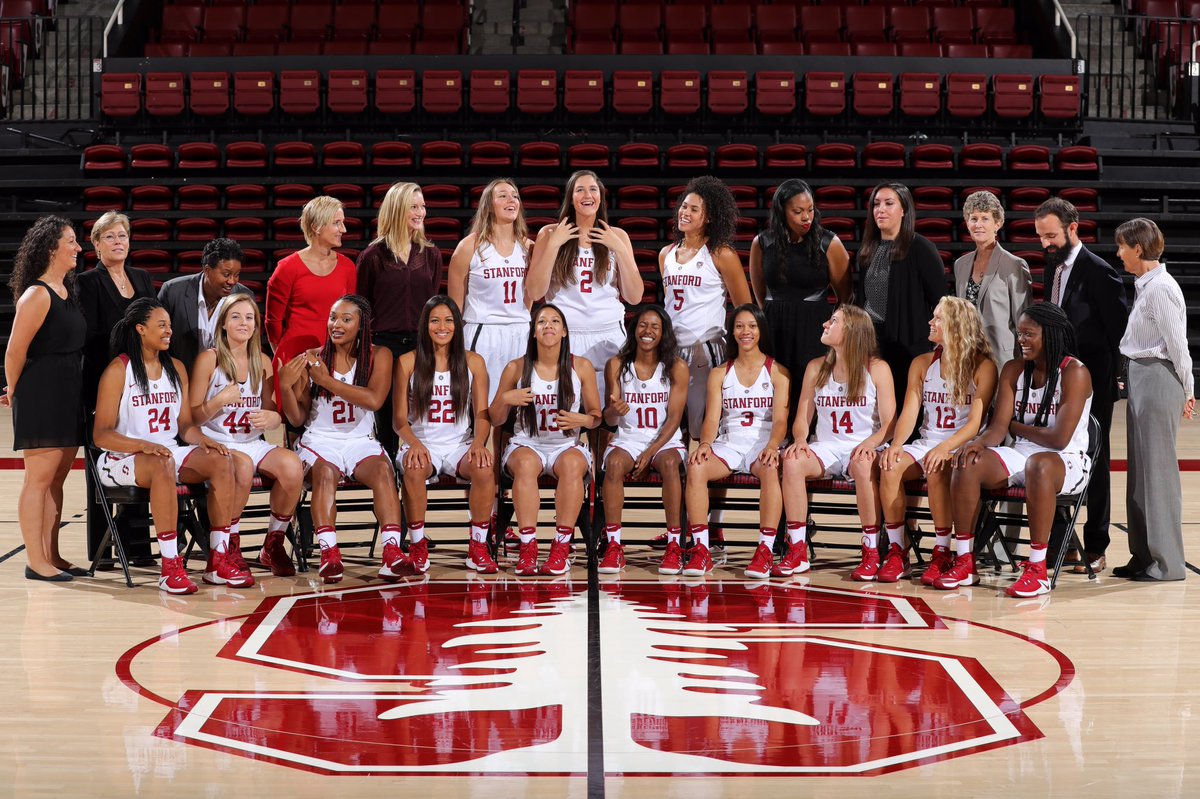 The Stanford Women's Basketball Team 2016-17
The Stanford Women's Basketball website also has a new look and feel (thanks to them I had to redo all my links), and here is a cool page on Cardinal Facts.
Check out their first day of practice (and why is Karlee Samuelsson wearing a cast?)
Can't wait for the season to start!
---
Whew, you made it to the bottom of C and R's Stanford Women's Basketball Blog!

Back to the Top of the Blog


or check out the other months of C and R